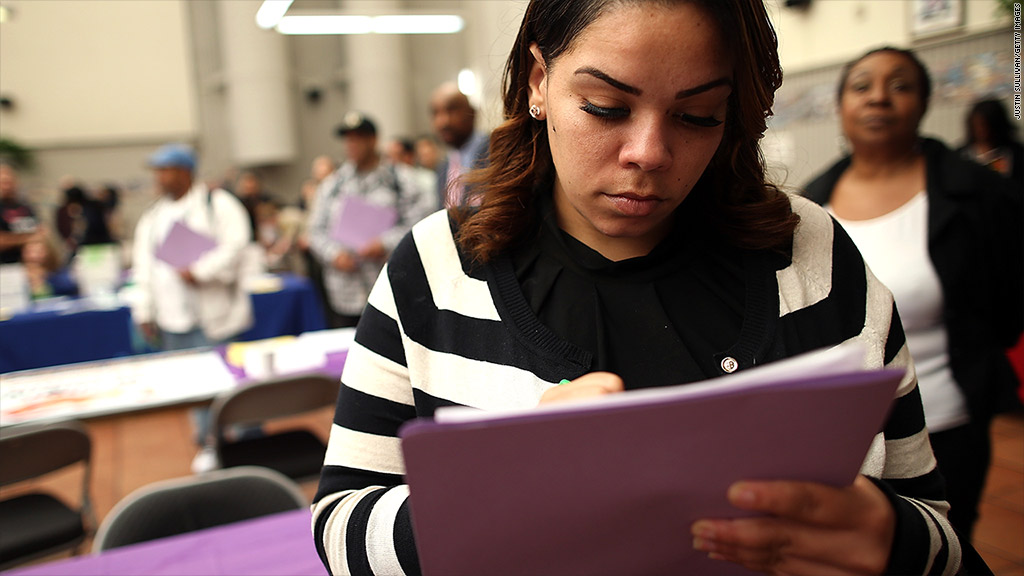 Very few Americans filed for unemployment last week.
The jobless claims rate fell to 265,000 -- the lowest since April 2000 and a big drop from the past few weeks when over 300,000 people were filing for unemployment aid.
At first glance, it's good news for the U.S. economy. More and more people have been finding work and transitioning faster from one job to the next. Last year America had the most job growth since 1999.
Economist Diane Swonk of Mesirow Financial thinks it could also be a positive sign for veterans.
"Some of the surge earlier in the year was due to a jump in veterans returning home; that is starting to abate," she notes. Layoffs in the retail sector could also be mostly over after the ho-hum holiday shopping season.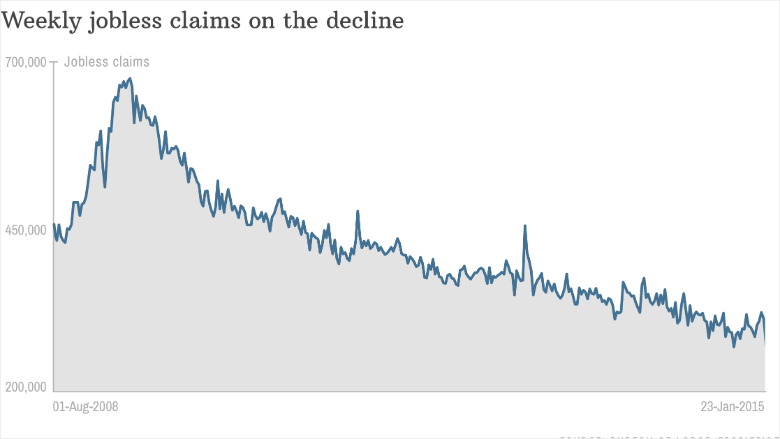 This comes on the heels of an upbeat assessment of the economy from the Federal Reserve, which cited strong job growth in its statement Wednesday as reason to expect continued improvement in 2015.
But economists caution not to cheer too loudly yet.
Related: Just how healthy is the Obama economy?
Jobless claims often jump around a lot from week to week, and last week included the Martin Luther King Jr. holiday, which may have made people less inclined to file unemployment claims.
"My knee jerk response is to say 'holiday week.' This is an anomaly and we're most likely to get a big gain next week to compensate for it," says Robert Brusca, chief economist at Fact and Opinion Economics.
Going forward the key number to keep an eye on will be job losses in the energy industry.
On Thursday, Royal Dutch Shell announced $15 billion in worldwide cutbacks, the latest big oil company to scale back. That's having a ripple effect across the energy and industrial sector.
As CNNMoney has chronicled, the layoffs have begun in North Dakota and Texas, among other big energy producing states.
Related: Cheap oil is killing my job
"Texas has been a real strong job creator for this economy. It created a large proportion of jobs for the national economy. Now Texas is going to go limp," Brusca says.
The stock market initially bounced on the news of the big fall in jobless claims, but it then pulled back as more companies report lackluster earnings results.
Economists often look at the 4-week average of initial jobless claims, which fell to 298,500 last week. That's about where it was in early December.