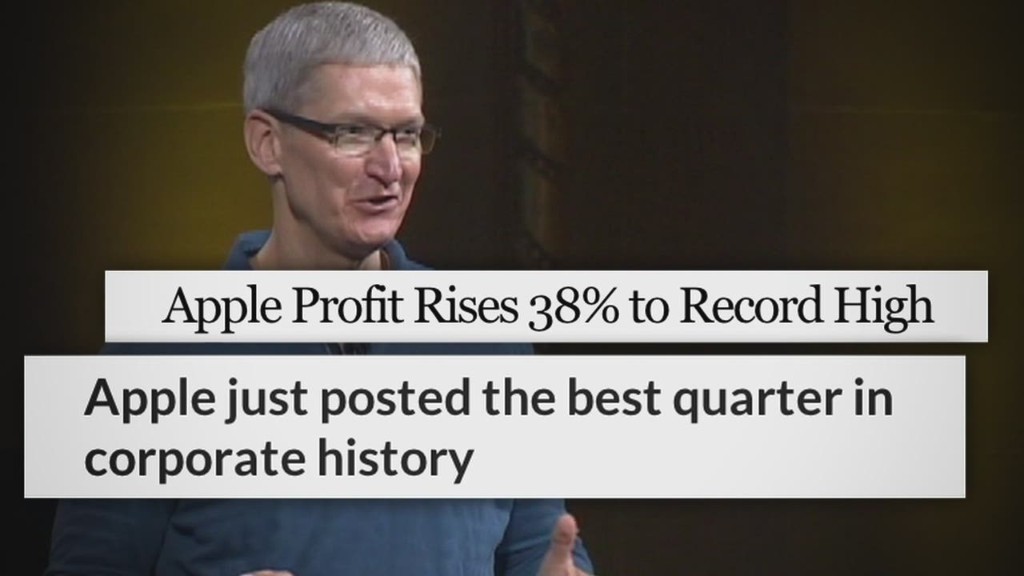 Tim Cook has given his naysayers the ultimate comeback: His company just posted the most profitable quarter for any company -- ever.
Cook has heard it all: He's not suited to be CEO. He's just an operations guy. Apple (AAPL) needs another Steve Jobs, not a Steve Ballmer.
He's not hearing much of that anymore. Even Cook's biggest detractors have to admit that Apple's recent performance is astounding:
-- 74.5 million iPhones
-- 5.5 million Macs
-- iTunes sales records
-- $18 billion in profit, 30% revenue growth
-- $178 billion in cash last quarter.
Can Cook possibly keep that kind of growth going?
The case for Cook's Apple isn't a particularly difficult one to make (investor Carl Icahn has repeatedly called it a "no brainer").
Consumers are going bananas over Apple's new iPhones. With iPhone market share hovering in the teens in China, Apple has a lot more Chinese customers to sell to. And Cook said this week that he is "incredibly bullish" on the iPhone going forward, because only a small fraction of iPhone users have upgraded to the new iPhone 6 and iPhone 6 Plus smartphones.
Meanwhile, Apple is making it harder for existing iPhone users to defect to Google's (GOOGL) Android, by making the iPhone more symbiotic with the Mac, iTunes, Apple Pay, Apple TV, and all the other Apple services and iGizmos.
But there are also reasons to believe that Cook faces a tougher road ahead.
Too much iPhone reliance. Apple is hugely reliant on the iPhone -- the iPhone accounts for 69% of Apple's revenue. That's a potential problem, because smartphone sales are slowing in most of the biggest iPhone markets.
In the United States and Western Europe about 70% of cell phone customers own a smartphone. Going forward, smartphone sales will likely only grow by about 5% to 10% a year, according to Colin Gillis, analyst at BGC partners.
Related: Apple has mind-boggling $178 billion in cash to spend
iPad slowdown. iPad sales continued to slump, falling 18% to 21.4 million last quarter. Sales of Apple's tablet have shrunk for four straight quarters and in five of the past seven quarters.
Cook defended the iPad this week, saying that half of the iPad buyers this past quarter purchased one for the first time.
But even as the entire tablet market slumps, the iPad has fared even worse than its rivals. Apple now only commands 23% of the tablet market, down from 29% a year earlier.
What's next? Cook has said that Apple Watch, Apple Pay, corporate customers and TVs are the next big growth areas for Apple. But all of those come with giant question marks.
Apple is betting that people will want to spend $350 on an Apple Watch that gets less than a day's worth of battery life and doesn't do anything that your iPhone can't do. Smartwatches as a whole have not yet taken off (though neither had smartphones or tablets before Apple brought the iPhone and iPad to the market).
For Apple Pay to move the needle just 1% on Apple's expected 2015 revenue, Apple Pay would need to be used in $1.4 trillion worth of transactions. To put that in perspective, that's about twice what Americans spent during the entire holiday shopping season last year.
Apple just inked a major deal with IBM (IBM) to get Apple products into the hands of businesses. But businesses are usually wary of adopting their products because Apple has never played nicely with corporate customers: Without notice, it eliminated crucial products like the Xserve and completely castrated its Final Cut software, making video producers furious.
And though Apple has repeatedly failed to deliver on Steve Jobs' promise of "cracking" the TV market, Cook said Apple is still working hard to get giant media companies on its side (good luck).
Related: 74.5 million iPhones is...
If those new products fail to take off, Cook is running out of tricks up his sleeve to keep Apple growing.
Though Apple's numbers would have been strong anyway, Apple gave its past quarter some boosts beyond just selling more stuff. Instead of its typical staggered launch cycle, Apple launched the iPhone 6 in a record 130 countries this past quarter. Cook added rocket fuel to Apple's supply chain, helping the company make 7 million more iPhones than it had expected to. And the iPhone 6 was the first new iPhone to debut on China Mobile, after Apple inked a deal with the world's biggest carrier earlier in the year.
Tim Cook has made everyone forget about Steve Jobs -- for now. But if he can't keep Apple's growth up, those comparisons might come roaring back.