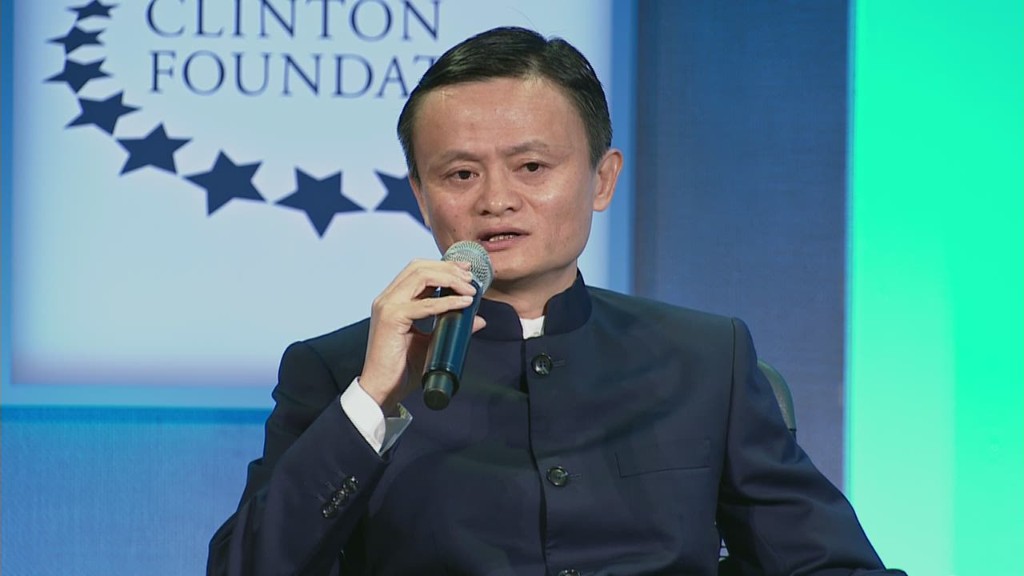 Jack Ma had a no good, very bad day on Thursday, a $1.4 billion paper loss on the plunge in shares of Alibaba.
The Chinese e-commerce company reported disappointing sales that sent shares down nearly 9%. And founder and CEO Ma's 6.3% stake in the company tumbled right along with them.
The loss won't take much of a bite out of Ma's estimated $26 billion net worth, although Bloomberg said it was enough to knock him out of its ranking as wealthiest person in China. The wire service's wealth tracker, for now at least, put property tycoon Wang Jianlin slightly ahead of Ma.
How long Ma has to suffer the paper loss is unclear. The company was not suffering from bad results overall -- its earnings were actually better than Wall Street estimates. And even with Thursday's decline, shares of Alibaba (BABA) are well above September's $68 initial public offering price, which was enough to make it the richest IPO in U.S. history.
Related: Battle of the billionaires - Ma vs. Buffett
Ma might take solace from the experience of another Internet billionaire, Mark Zuckerberg, who suffered a paper loss of about $10 billion between the Facebook's May 2012 IPO and its low point of $17.55 a share a few months later.
Since then shares of Facebook (FB) have climbed to $78, taking Zuckerberg's holdings to more than $33 billion.