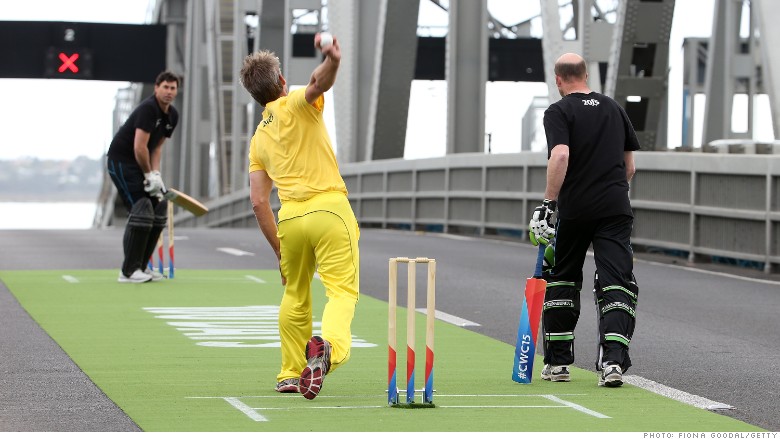 In a first of its kind arrangement for the sports network, ESPN will sell access to the ICC Cricket World Cup through an online subscription service.
Cricket fans in the United States will be able to live-stream the cup's 49 matches in February and March for $99.99.
It's being billed as a one-time deal. But ESPN is sure to learn valuable lessons from the experiment -- lessons that can be applied as the media industry continues to change and fragment.
The Cricket World Cup marks the first time that ESPN has sold programming directly to consumers, sidestepping its important relationships with cable and satellite providers.
Other media giants are exploring the same sorts of options -- Nickelodeon spoke Thursday about a forthcoming streaming service for children.
But with the Cricket World Cup, ESPN is not bypassing those providers altogether. It has struck deals with three of them, Dish Network (DISH), Time Warner Cable (TWC) and Mediacom, so customers can buy the cricket package through those providers, too.
In essence the cricket matches will be available "pay per view" the same way HBO and Showtime sell boxing fights through cable and satellite distributors.
The cable providers will set their own prices for the cricket package.
The most noteworthy part of ESPN's plan is the "digital subscription service," as the network dubbed it Friday. Re/code first reported on the plan last November.
Russell Wolff, an ESPN executive vice president, framed the subscription service as a "complement to our core networks and the value of the multichannel environment."
In other words, the cricket package is additive, not intended to disrupt the traditional cable model that is so lucrative for all the parties involved.
Wolff also acknowledged that the arrangement is a chance for ESPN to "develop new expertise and agility in a dynamic media environment."
The service, at ESPNcricket2015.com, will go on sale on Tuesday.
"Watch all 49 matches plus four bonus warm-up matches on your computer, tablet, smartphone, and Roku," ESPN's promotional web site says.
How else might ESPN sell programming straight to consumers in the future? Well its long-term rights deal with the NBA, announced last fall, included a "framework" for a future "over-the-top offering."