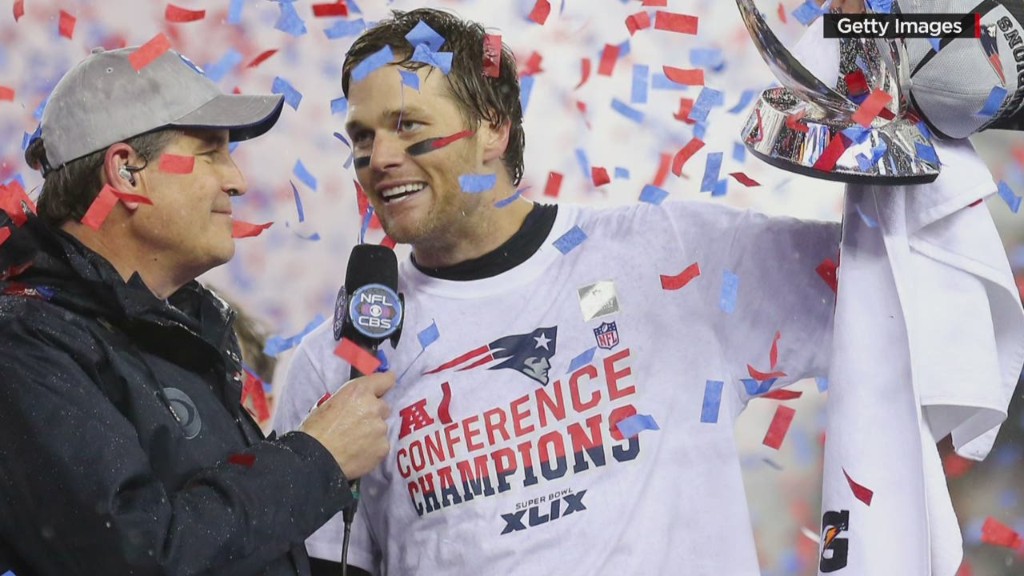 Companies justify spending a whopping $4.5 million on a 30 second Super Bowl ad by touting how it's the one time you can reach more than 100 million people.
An added bonus? Those viewers aren't feverishly hitting the fast forward button on their DVR remote to zoom past commercials. For many, the ads are more important than the game.
But are we soon reaching the point where Super Bowl ads just won't make any economic sense? The price of a commercial keeps going up. Will it be any surprise if they reach $5 million next year or in 2017?
With that in mind, some companies may be able to "win" the Super Bowl marketing game with cheaper forms of advertising. Viral YouTube videos. Tweets and Facebook posts.
Oreo won the Super Bowl ... with a tweet. Remember how Oreo stole the thunder from all the TV commercials two years ago?
Shortly after a blackout hit the Superdome in New Orleans, Oreo tweeted the following message.
"Power out? No problem." The tweet was accompanied by a photo of an Oreo with a caption that read "You Can Still Dunk In The Dark"
Related: Check out a preview of some of this year's Super Bowl ads
Oreo actually had a Super Bowl ad that ran on TV that year. But good luck trying to remember it.
"Relevance is key. You need to make sure your brand is connecting and resonates. Oreo had the right message at the right time and it made complete sense." said Francois Petavy, CEO of eYeka, an online crowdsourcing firm.
Band of brands. Tweets aren't the only way to get noticed. Newcastle Brown Ale had what many marketing experts felt was the best Super Bowl ad last year. But it wasn't a real ad.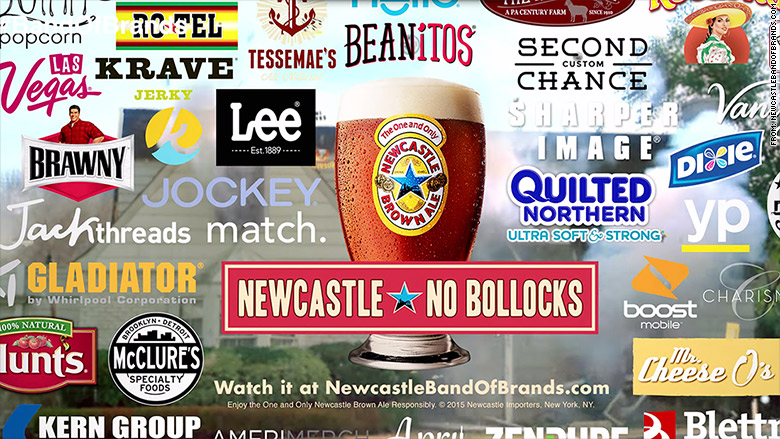 Newcastle got Anna Kendrick to curse like a stevedore in an online video. The joke was that Newcastle promised to put her in a Super Bowl ad and then backed out because they didn't have the money to pay her.
It was a hilarious joke. Newcastle is not some microbrew with no marketing budget. It's owned by Heineken (HEINY). It just isn't allowed to advertise during the Super Bowl because Anheuser-Busch InBev (BUD) holds the exclusive rights for Super Bowl beer commercials.
Newcastle is at it again this year.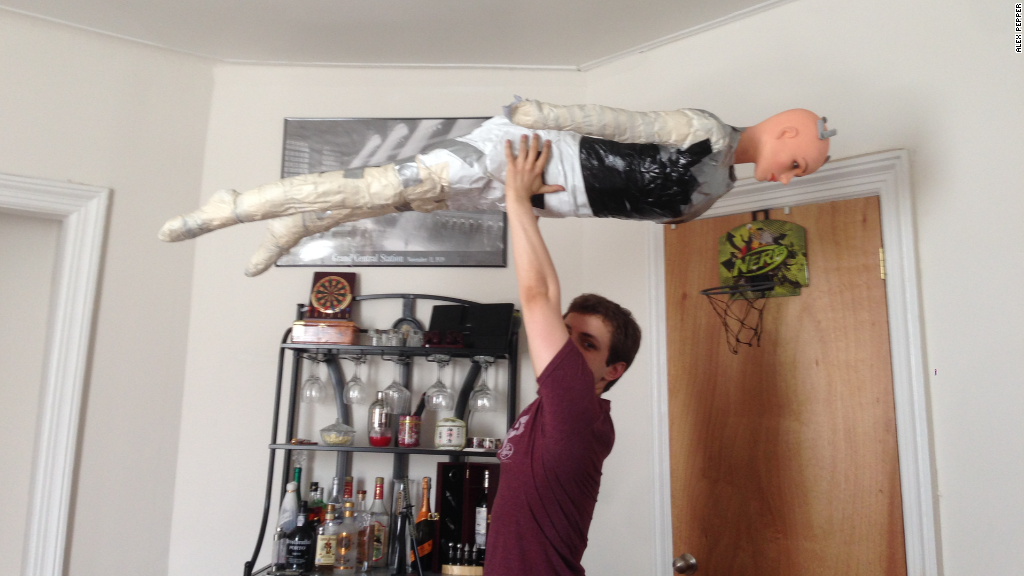 It crowdsourced a viral commercial. The Kickstarter-esque "Band of Brands" features 37 sponsors, including Jockey underwear, Quilted Northern toilet paper and Match.com. Newcastle also produced a fake ad that it claimed it entered in the Doritos user-generated contest.
"Newcastle's ambush advertising is brilliant," said Michael Pavone, who runs the Pavone ad agency and has a site called SpotBowl.com that tracks the commercials on Super Bowl Sunday. "Social media has changed the game."
Advertise after the game. Companies are also experimenting with other ways to have Super Bowl advertisements ... that aren't running during the Super Bowl.
Shawn Prez, founder of Power Moves Inc., a marketing agency, noted that AllState's Esurance unit made a big splash last year by purchasing the first available Super Bowl ad after the game ended.
Esurance used the ad to run a contest. Since it was saving money by advertising after the game, it promised $1.5 million to a random viewer who tweeted #EsuranceSave30.
"That was really smart," Prez said.
Related: Is this the Super Bowl's next GoDaddy?
Some firms are also taking advantage of relationships they have with players in the game. Prez pointed out how blender maker Nutri Ninja got lucky. Nutri Ninja had New England Patriots wide receiver Julian Edleman in a YouTube video last year.
The Pats are in the Super Bowl and Edelman has gotten more attention for his play -- especially after he threw a touchdown pass in its game against the Ravens. So what did Nutri Ninja do? It had Edelman appear in a new video making smoothies with teammates.
Ads must be mix of "old" and "new" media. Of course, an ad during the Super Bowl can have a huge impact on a company. Pavone said that Apple (AAPL), Master Lock and GoDaddy arguably wouldn't be where they are today without memorable Super Bowl commercials.
Related: Will the Super Bowl get record ratings?
But now that people are watching the commercials while also following reaction on their smartphones and tablets, it's not enough to just create 30 seconds for television.
"Companies need to do more. They have to take customers on a journey," said Jeff Rohrs, vice president of marketing insights for Salesforce (CRM) Marketing Cloud. He said that just putting a hashtag for one second at the end of an ad is not sufficient.
According to a poll of more than 400 consumers by Salesforce, Rohrs estimates that nearly two-thirds of the Super Bowl viewers will also be using Facebook (FB) while watching the game and that younger viewers will be most active on Twitter (TWTR) and Snapchat.
So companies will probably continue to pay big bucks next year to advertise during Super Bowl 50. But you'll probably see a lot more cheaper guerilla marketing campaigns as well.