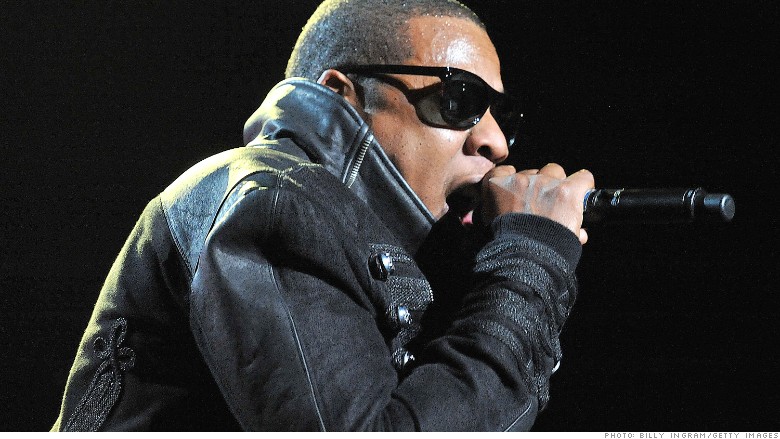 In the music world, buying a tech startup is all the rage these days.
Rapper and record producer Jay-Z is the latest, offering $56 million to snatch the Swedish music streaming company Aspiro. Both companies announced the offer on Friday.
Aspiro owns the music subscription service WiMP, which streams "HiFi-quality audio," along with magazines and video content too. It has partnerships with major record companies including those at Sony, Universal and Warner -- giving it access to huge libraries of music.
In the United States, the service is known as Tidal.
Jay-Z, whose real name is Shawn Corey Carter, made the deal through one of his many business ventures, Project Panther Bidco.
In a statement, Project Panther said it plans to expand Aspiro's platform worldwide.
"The recent developments in the entertainment industry, with the migration to media streaming, offers great potential for increased entertainment consumption and an opportunity for artists to further promote their music," it said.
Jay-Z representatives noted the deal hasn't closed yet.
But Streaming Media AS, the company that owns 76% of Aspiro, said it will accept the offer. It was a sweet deal. At $56 million, Aspiro is valued at one-and-a-half times what it currently trades at on the Stockholm Stock Exchange.
This continues the recent trend of accomplished, wealthy musicians morphing into technology investors.
Last year, Neil Young raised more than $6 million for his startup Pono, which makes a portable music player that emits vinyl-record quality sound. Then there's Dr. Dre and Jimmy Iovine, who bought headphone maker Beats and later sold it to Apple for a stunning $3 billion.
Jay-Z has the wealth to make those deals, too. Not only is he one of the best-selling artists ever (with more than 100 million records sold), he also sold his Rocawear clothing line for $150 million back in 2007. Last year, Forbes estimated his net worth at $520 million.