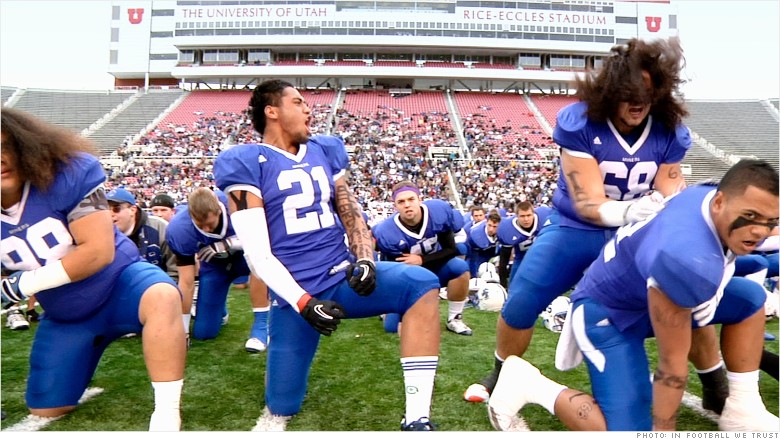 There are only about 300,000 Samoans and Tongans in America but their impact in one of the most American sports of all time is huge.
"As Polynesian kids, we were much bigger than the other kids in high school so it was natural for us to excel and do well in football, said Tongan Tony Vainuku.
Vainuku is the director of the documentary, "In Football We Trust," which debuted at the Sundance Film festival.
The film chronicles the lives of four young NFL hopefuls in the Salt Lake City area, which boasts one of the largest Polynesian communities outside of Samoa and Tonga.
"The Polynesian football phenomenon is a big thing but not many people including our own community in Salt Lake City and Utah know anything besides that," said co-director and producer Erika Cohn.
Related: NFL gets billions in subsidies from taxpayers
For many Polynesian families, playing football is the road to a good education and way to support the entire family.
But that journey to the top isn't all glitz and glamor.
Recruited and groomed for the NFL
Al Lolotai. Manu Tuiasospo. Haloti Ngata. Troy Polamalu.
Their names have filled college and NFL rosters in the last several decades. There have been more than 200 Polynesians who have played professionally in NFL and CFL.
Getting to play at a top college and eventually the NFL like their peers before them has inspired many Polynesian youth to start young and play football in high school.
"If I keep making the right choices and keep my head straight, things start falling in place you know, I'll get my degree. I'll go on and get a good paying job in the league. If I'm in the league you know, the first couple checks go to the family," said Harvey Langi, one of Utah's top high school running backs interviewed in the film.
The average salary range for a NFL player ranges from $750,000 to $22 million for top players, according to Spotrac.com.
Related: Who is the richest NFL team owner?
During his senior year in high school, Langi received football scholarships offers from almost every top Division I school. But a trespassing incident that involved suspected marijuana use limited those choices as schools withdrew their scholarship offers.
"It's just so much pressure on your shoulders. It's like I could hardly carry it sometimes," Langi said in the film.
"If you fail this Harvey, all of your scholarships will be gone. That's when it hit me. If it's in my system and I test positive, I'd get just a regular job and be a normal person and if it comes out negative, I tell myself I'm going to make it today in the field," he said.
Langi tested negative for marijuana and was suspended but allowed to stay on the football team at Bingham High School in South Jordan, Utah.
"The thing that's difficult for the kids that are growing up is that their parents expect them to play in the NFL at the cost of everything else. It's hard to get in there. It's even harder to stay. And if kids grow up thinking well that's what I'm going to do and nothing else, they're a long shot to success in life period," said former Green Bay Packer and Philadelphia Eagle player Vai Sikahema, the first Tongan to play in the NFL.
Langi ended up committing to the University of Utah but after a year he decided to go on a mission with the Church of Jesus Christ of Latter Day Saints for two years.
"A lot of people think I'm just doing my mission because maybe I'm scared of football -- scared of not playing because I didn't do good my first year. I'm not scared. I can still play ball. I want to be a running back. I want to show that Polynesians can be a running back in the league. And I know I have the ability to do it," Langi said in the film.
After returning from his mission, Langi is now playing football at Brigham Young University.
A vehicle to stay out of trouble
For other families, football was a means to stay out of bad situations and finance an education.
"It does take a toll on your family. Sacrifice is something huge for us where we feel we're going to do whatever we need to do with whatever means we have," said Kauta Bloomfield, mother of Leva and Vita -- brothers who were profiled in the film as they struggled to disassociate their ties from gangs while playing football. Leva was sent to juvenile detention after he brought a gun to school.
Their father Fua was a former Brigham Young University running back who founded one of Utah's first Polynesian gangs.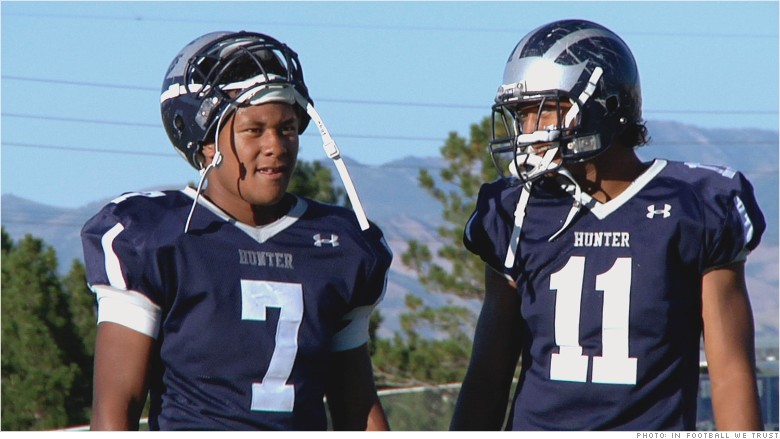 "When I look back we did invest a lot in Leva and Vita because they were the oldest of the nine (children). We always figured that we invest all of this time and money into them it's all going to pay off -- which it did, they got full ride scholarships, however it did take a lot of time from our younger kids," Bloomfield told CNNMoney by phone. "So when they did make bad choices it did make me question myself as far as parenting -- where was it worth all of that, because they still ended up making other choices."
Leva and Vita completed their high school coursework and Leva is now playing football at Snow College and Vita is a football coach at the University of Utah.
A means to something greater
For Fihi Kaufusi, football was never the end game.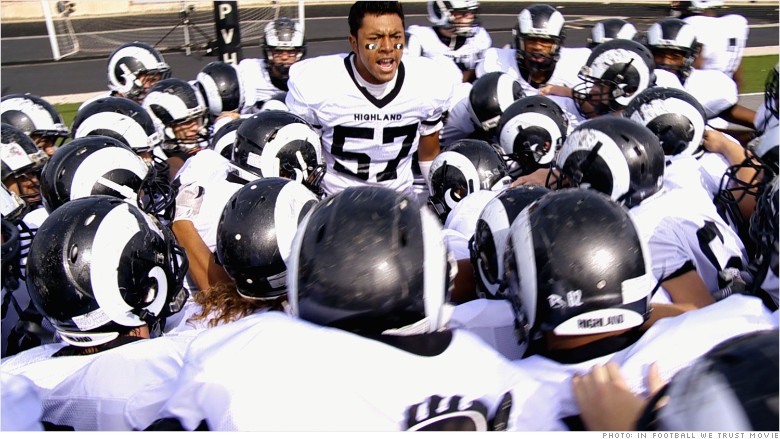 "Football is not always going to be there for me. I may have a good body -- body type for speed and stuff but that's going to only last so long. I got to figure it out...school job and a career," Kaufusi said.
As the oldest in his family, Kaufusi's mother pushed him to set an example for his other brothers and sisters.
After returning from his mission with the LDS church, Kaufusi is now playing football at Weber State University.
"I used football as a means of transportation to get where I needed to go. I knew in my heart, football was going to be done soon for me and I wouldn't be able to continue on after college," Kaufusi said by phone. "But I can use it to get me to college and to get my degree and that would do a lot for my family."