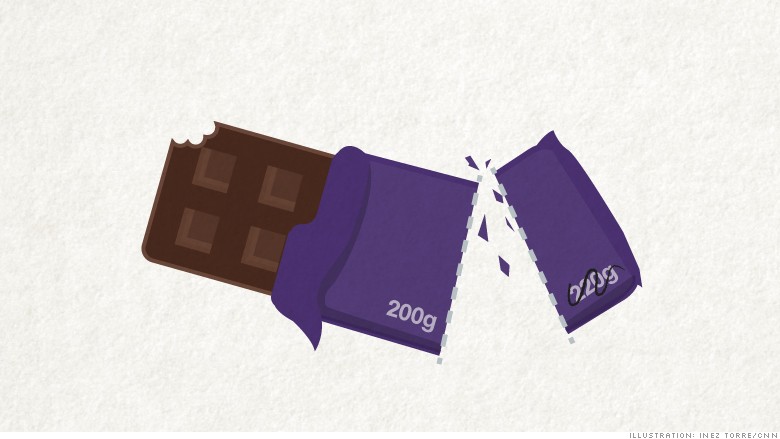 Australian chocoholics beware, your favorite bar is getting smaller by an entire row.
Cadbury said Tuesday its best selling Dairy Milk bar will shrink by 10% to 200 grams from 220 grams. The price is staying the same.
Parent company Mondelez International (MDLZ) said it was trying to offset rising manufacturing costs.
"We've reached a point where we can no longer absorb these increasing costs into the price of our chocolate blocks," Mondelez said.
The only other option was to keep the chocolate bars the same size and sell them for a higher price, the company added.
Related: Chocolate-making jobs on the decline
The news hasn't gone down well in Australia. Angry chocolate lovers took to Cadbury's Facebook page to criticize the decision.
"Won't be able to call it a family block anymore. We are a family of five and we will be lucky to get three pieces each," said Cheryl Woodlands.
Cadbury has been in Australia for nearly a century. Its Dairy Milk brand has over half of the country's chocolate bar market.
The company said the move will support local manufacturing in Australia. Cadbury's factory in Tasmania is crucial to the local economy. Last year, the Australian government pledged a $16 million grant to boost tourism at the factory.
Cadbury has upset its customers before by trying to substitute chocolate butter with palm oil to cut costs. It was forced to drop the plan in 2009 due to pressure from consumers.