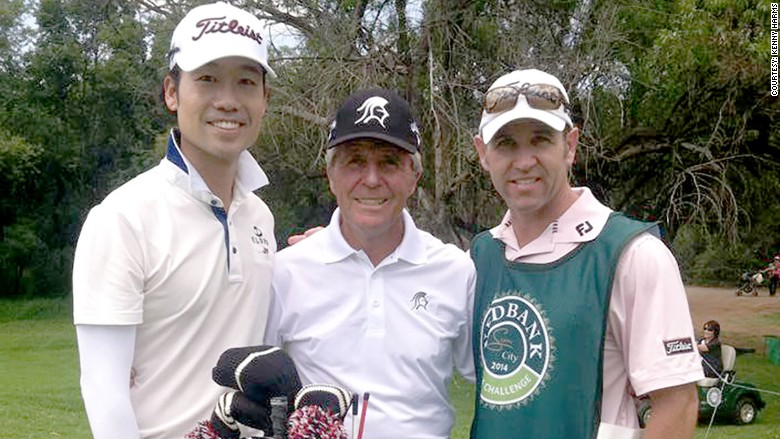 Golf caddies have a message for the PGA: We aren't human billboards.
More than 80 professional golf caddies filed a $50 million class action federal lawsuit against the PGA Tour Tuesday saying it isn't fair to force them to wear bibs emblazoned with logos during tournaments without offering them compensation.
The bibs are sponsored by companies like Coca-Cola and Buick, and the money goes directly to the PGA Tour. The complaint alleges that the PGA retains "for itself the tens of millions of dollars in advertising revenue generated by those bibs annually."
"We are advertising for these corporate sponsors and not being reciprocated for it," said Kenny Harms, 49, who has been a caddy for 25 years. One of the lead plaintiffs in the case, he caddies for Kevin Na, who is ranked 29th in the world. Na says he supports him "100 percent" in the suit.
Related: NFL gets billions in subsidies from U.S. taxpayers
Harms, who is also on the board of the Association of Professional Tour Caddies, said he went back and forth with the tour for the last year in private negotiations, but that the tour said the bibs were "off limits." Harms said the lawsuit was the only way to go.
"Everybody knows we went through the proper channels to avoid this. Unfortunately we're in a corner and this is our only option."
Caddies are experts on golf courses, and a good caddie can mean the difference between a loss and a win. The complaint says "caddies also serve as coaches, strategists, general assistants, cheerleaders, counselors and friends."
But, Harms said, the caddies are still treated like second-class citizens.
At the Sony Open in Hawaii just this year, for example, there was a sign on the clubhouse that said no caddies allowed.
"I guess it did say please," Harms said. He said caddies are often forced to stand in tents when rain hits a tournament while the players and officials stay dry in the locker rooms or the clubhouse.
As independent contractors, the tour doesn't provide caddies with healthcare, pensions or retirement plans. All their travel expenses have to be taken care of themselves. Harms said caddies make anywhere from $1,000 a week to $2,500 and get 5-10% of the winnings.
Related: Why neon is taking over the world
If the caddies could have their own sponsored bibs, or have a share of the proceeds from them, it would mean a big difference for them and their families.
"What we're looking for is fairness," Harms said. "It's a big family that we are out here. Unfortunately the tour doesn't look at it as the caddies being part of that family."
The PGA Tour declined to comment.
CNN Sports contributed reporting.