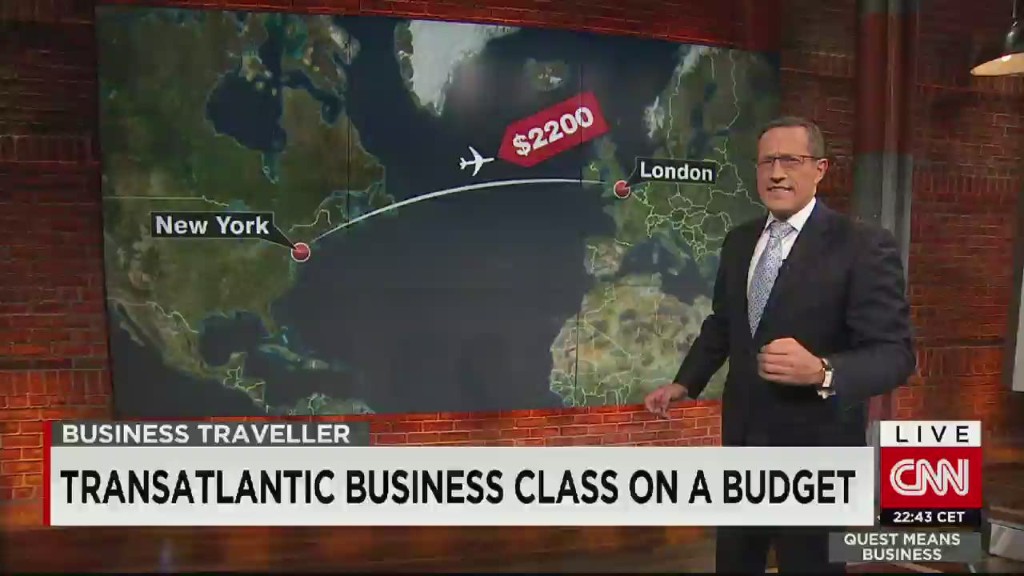 Fly across the Atlantic in style...and for half the price? A new all-business class French airline says it can make it happen.
La Compagnie will launch its New York to London service in April for around $2,200 return.
That's at least half the price of a business ticket with major carriers like American Airlines (AAL) and Air France (AFRAF). La Compagnie already flies from Newark to Paris.
The company says it's able to offer cheap flights by keeping costs down. The firm's headquarters are on the outskirts of Paris, saving on high inner city rents. It also keeps staff numbers low: there are just three cabin crew for each flight, which carry up to 74 passengers.
Related: U.S. airlines eager to fly to Cuba
The airline operates Boeing (BA) 757-200s, a mid-size jetliner also used by Delta Airlines (DAL) and United Airlines. The planes are fitted with flatbeds and individual Samsung (SSNLF) Galaxy tablets to keep passengers entertained. It will run four flights a week to London initially, rising to six by June.
Despite the attractive fares, La Compagnie will have a tough time taking on the big players.
Other upstarts have tried to grab a slice of the lucrative transatlantic business travel market before. Three all-business operators -- Eos Airlines, MAXjet and Silverjet -- had all collapsed by 2008. A fourth, L'Avion was sold to British Airways.
Related: American Airlines goes from bankruptcy to S&P 500 club
Waning demand in the lead up to the financial crisis, as well as rising jet fuel prices, contributed to those failures, but analysts say the business model remains challenging.
Major airlines do bulk deals for corporate travel and La Compagnie will have a hard time competing, said Liberum analyst Gerald Khoo.
The key to success with corporate travelers is "network and frequency," he said. Time, rather than price, is often more important for them -- and British Airways alone has more transatlantic flights in one day than La Compagnie will offer per week.
"I think they will struggle," Khoo said, "The [major carriers] have an entrenched advantage of broader route networks and frequency. It's not insurmountable, but still very difficult."