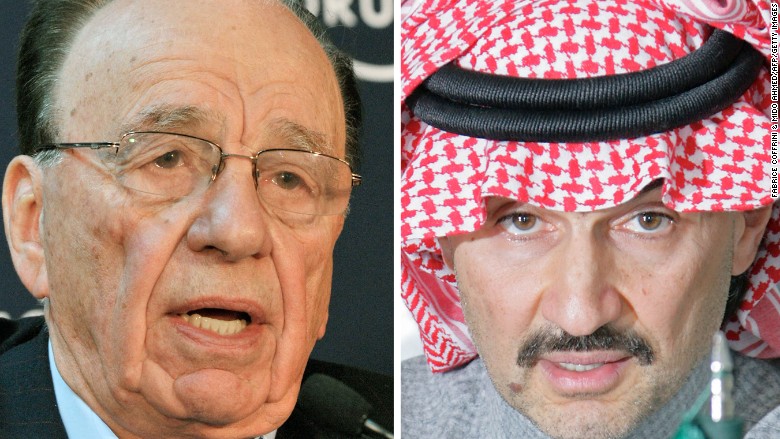 Saudi Prince Alwaleed bin Talal said Wednesday that his company will shed most of its stake in Rupert Murdoch's News Corp., taking its 6.6% ownership down to 1%.
But while Alwaleed's Kingdom Holding Company will reduce its stake in News Corp. (NWSA), it will maintain its 6.6% holding of Murdoch's entertainment company, 21st Century Fox (FOXA).
Murdoch's media empire was formally split into two companies in 2013, after a phone hacking scandal forced him to shutter his British tabloid, The News of the World.
News Corp. is Murdoch's publishing operation, made up of the New York Post and the Wall Street Journal as well as the book publisher HarperCollins. The more valuable 21st Century Fox is home to a host of television and film properties such as Fox Searchlight, the Fox broadcasting network and Fox News.
The phone hacking scandal bruised Murdoch's reputation and prompted questions about his leadership of the company. But Alwaleed, who has had shares in News Corp. for many years, remained loyal throughout. Even as he acknowledged in 2012 that the scandal was "not helping the name of the company," Alwaleed gave a vote of confidence to the embattled Murdoch.
"We have a strategic alliance with Rupert Murdoch for sure and I have been with him for the last 15 or 20 years," Alwaleed said. "My backing of Rupert Murdoch is definitely unwavering."
Alwaleed expressed similar feelings in a statement on Wednesday, saying that Kingdom Holding Company is both confident in News Corp.'s management and "fully supportive of Rupert Murdoch and his family."
He said the reduction of Kingdom Holding Company's stake in News Corp. was "decided in the context of a general portfolio review."