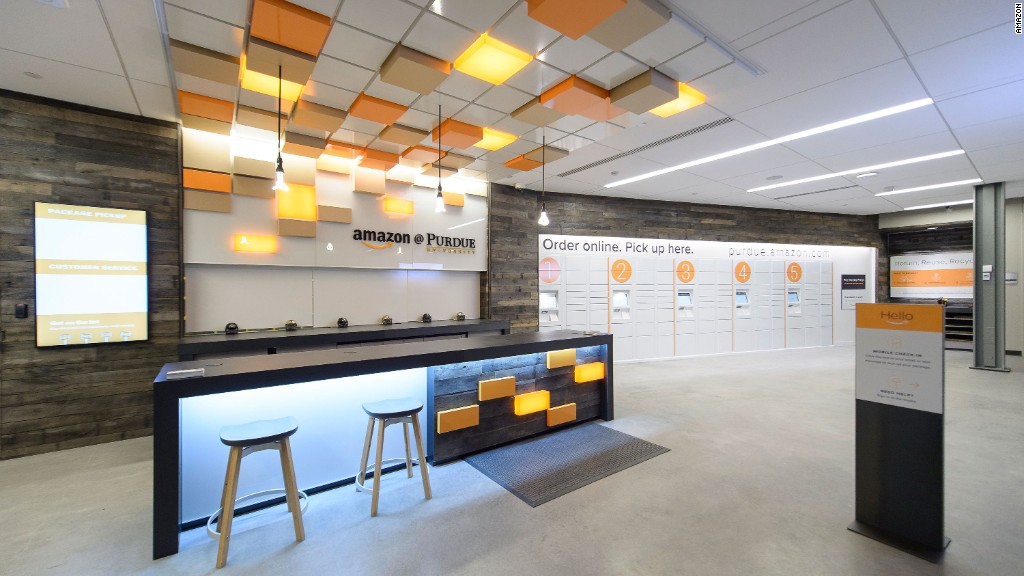 Look out, retailers. Amazon has opened its first-ever brick-and-mortar store.
Amazon (AMZN) announced that it has opened a pickup and drop-off location on the campus of Purdue University in West Lafayette, Indiana.
Students can order everything from "textbooks, laptops, or mac and cheese," according to Paul Ryder, vice president of media and student programs at Amazon.
Students can place store orders via Amazon Student, an already existing service that provides free shipping, and they'll receive email or text notification when their orders arrive. The company is also offering free one-day shipping for students who ship their purchases to the Purdue store.
The store is "a convenient and secure spot for them to pick up their stuff at hours that work with their schedules."
Ryder said the company plans to open a second location at Purdue in the spring and would like to expand into other universities.
Related: Amazon's script for making movies
This is a big departure for the retail giant that has dominated online sales.
But Amazon has experimented with physical locations before, placing lockers in stores across the country. And Bloomberg reports that Amazon is considering a purchase of RadioShack stores after the company files for bankruptcy.
Physical locations could be a good deal for some customers. Last year, Amazon raised its Amazon Prime membership to $99 in annual payments from $79, so customers have had to pay more for two-day shipping, video streaming and access to e-books. In 2013, Amazon raised the required minimum purchase for free shipping to $35 from $25.