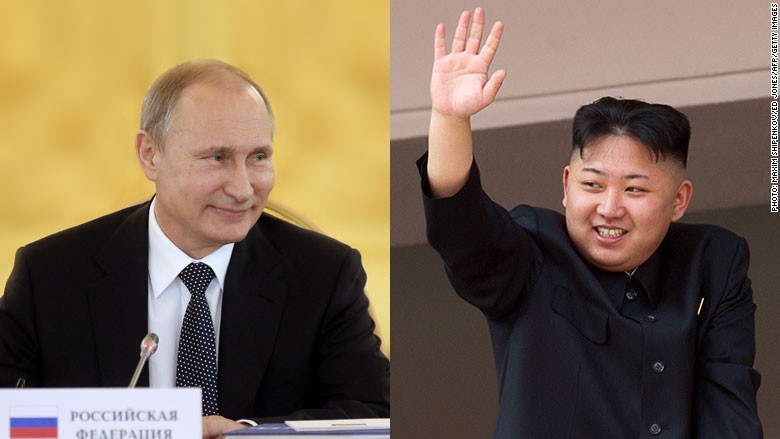 Russia has found a new, unorthodox business partner: North Korea.
As its economy slides into recession and business opportunities in Europe and the U.S. dry up due to sanctions, Moscow has turned to Pyongyang.
The Russian Chamber of Commerce set up a special Council for Cooperation with North Korea this week. The goal is to increase trade between the two to $1 billion a year -- double the current level -- by 2020.
As part of the agreement, Moscow will allow North Korean firms to set up accounts in Russian banks. In exchange, it will gain access to North Korea's mineral mines. The two countries agreed to trade exclusively in rubles.
Pyongyang also promised to ease up its visa process for Russian businessmen, who might be allowed to use the Internet and mobile phones while on business trips to the secretive state -- a luxury residents and other visitors can only dream of.
In another goodwill gesture towards Pyongyang, Russia canceled $10 billion of North Korea's $11 billion Soviet era debt in mid-2014.
To show the world just how chummy the two sides have become, Kim Jong Un is reportedly considering a trip to Russia to attend ceremonies marking the 70th anniversary of the end of World War II.
Related: Why North Korea's economy can't live without China
Russian business ties with the West have been unraveling since the U.S., Europe and other partners imposed sanctions on Moscow for annexing Crimea and supporting pro-Russian rebels in eastern Ukraine.
To make up for the lack of opportunities with the West, Moscow has been getting cozy with Asia. Russia signed a multi-billion dollar gas deal with China last year and trade between the two is posed to increase 10% this year.
The courtship with North Korea could also give a boost to Russia's plan of extending the trans-Siberian railroad into South Korea.
Related: Sanctions will never move Putin, Russian elites say
The North Korean economy is largely isolated from the rest of the world over the totalitarian regime's human rights abuses. An estimated 200,000 people are kept in political prison camps.