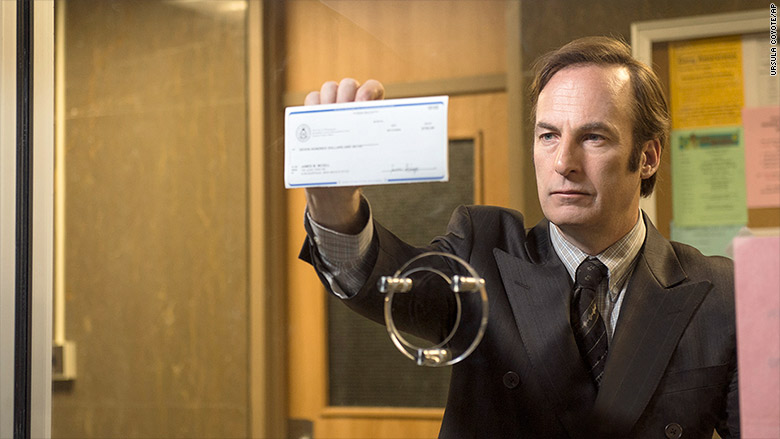 AMC's decision to use one monster hit, "The Walking Dead," to create another, "Better Call Saul," appears to be working.
"Saul," a spin-off to "Breaking Bad," scored the biggest series premiere ratings in cable history among 18- to 49-year-olds by hauling in 4.4 million in that demographic on Sunday night.
That's about five times as many 18-to-49 viewers as the "Breaking Bad" debut had in 2008.
"Saul" was on at 10 p.m., right after the spring premiere of "The Walking Dead," which is by far the biggest show on AMC's schedule.
"The Walking Dead" had 10.1 million viewers in the 18- to 49-year-old demographic. So "Saul" lost more than half of them -- but that's still enough to set a new cable record for a series premiere.
"The Walking Dead" showed itself to still be very much alive -- with 15.6 million total viewers for the episode -- although that number was down a bit from the fall premiere of the season, which opened up with 17.3 million back in October.
As for "Saul," it had 6.9 million total viewers. Its second episode will debut on Monday night.
AMC is emphasizing that it expects the show's ratings to grow markedly with the addition of delayed viewing data -- to that end, it says it won't share any ratings for Monday's episode until three days of digital video recorder ratings are available next week.
"Dead" and "Saul" brought in their cult fan bases despite musical competition in the form of the 57th annual Grammy Awards on CBS. The Grammys averaged 25.3 million viewers, making it one of the year's top non-sports telecasts.
But by Grammys standards, the results were only decent -- the total audience for the awards show was down 11% from last year.