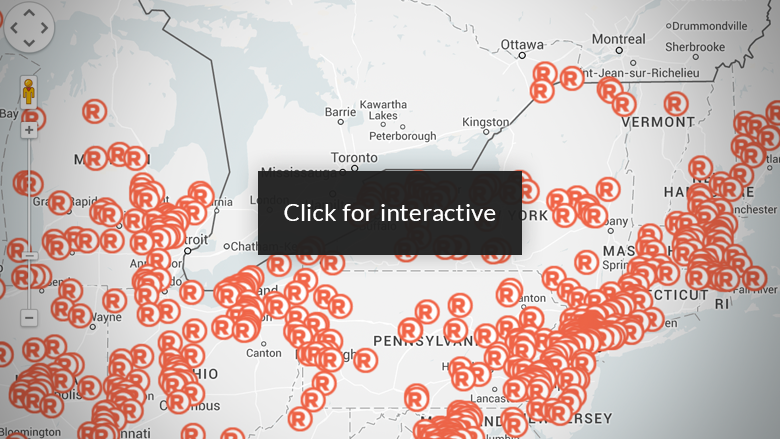 RadioShack's plans to close about half of its stores in the next six weeks will impact nearly every state, the company revealed.
It released the list of 1,784 stores it says are due to close by March 31.
Alaska is the only state where no closings have been announced. The state with the most closings is California, with 175, followed by New York and the company's home state of Texas. Vermont has only 2 stores slated to close.
The list shows just how much RadioShack is oversaturated in many markets. The company once bragged 90% of the U.S. population was within minutes of a store. But the network of as many as 5,000 locations became an unaffordable burden, with many stores competing against each other.
On the island of Puerto Rico, for example, there are 56 stores. Forty-five are slated to close.
See interactive map of all RadioShack store closings
The company has not said how many jobs will be lost from the store closings, or from the company giving up about one third of the floor space in its remaining stores to cell phone provider Sprint (S). RadioShack (RSHC) had about 21,000 employees as of its bankruptcy filing.
The closings are part of RadioShack's bankruptcy filing from this past Thursday. According to what staff from across the country told CNNMoney last week, many of the stores have already had their hours and inventories severely reduced, and merely a skeleton staff is left to sell off items at deep discounts.
Related: RadioShack employees - Tales from the walking dead
Note: An earlier version of this article inaccurately reported three states had no RadioShack locations that were set to close.