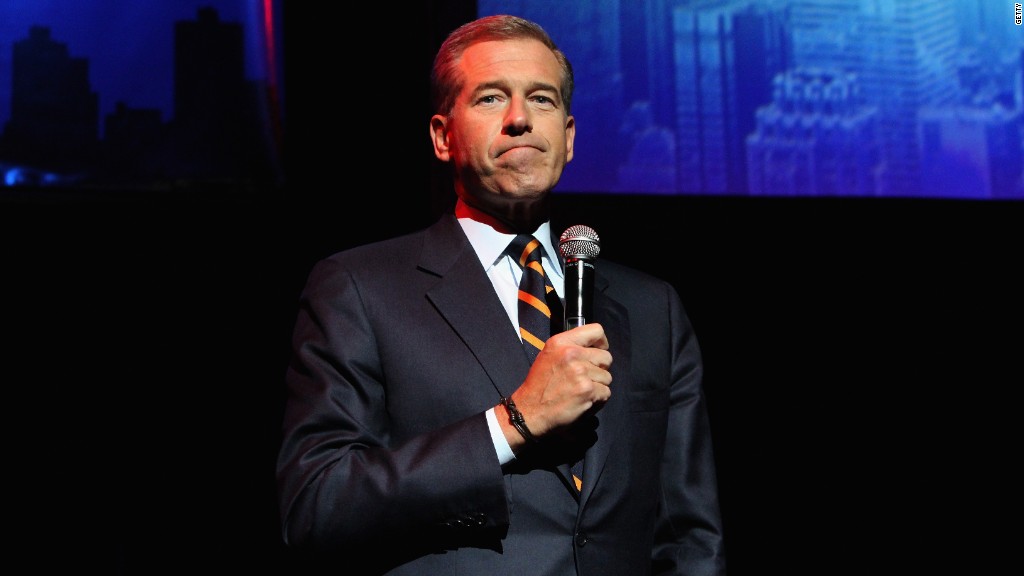 NBCUniversal CEO Steve Burke met with his embattled news anchor Brian Williams on Tuesday morning as a team of the network's own journalists continued to fact-check several of Williams' claims about past stories he covered.
The meeting took place at Burke's apartment adjacent to Central Park in Manhattan. The two men left together afterward. NBC officials declined to comment.
The meeting came one day after NBC's lead investigator on the matter, Richard Esposito, provided a "progress report" to executives.
The work by Esposito is not done yet, but Esposito discussed a timetable. One NBC source said the process will be finished "sooner rather than later."
The network is balancing thoroughness with a need for speed as it seeks to contain a crisis enveloping NBC.
Williams has admitted to exaggerating his experience on an Iraq War mission in 2003. His apology, televised on his "NBC Nightly News" last Wednesday, was widely perceived as inadequate. Since then, some of his other past reports have come under scrutiny. He has taken a leave of absence as the network reports what's right and what's wrong.
Timeline: How Brian Williams' Iraq story has changed
The man leading that effort is Esposito, the network's senior executive producer in charge of the investigative unit.
At least one NBC correspondent is also involved: Kate Snow, a national correspondent who joined NBC from ABC in 2010. When Williams had a prime time newsmagazine called "Rock Center," Snow was dedicated to it.
Snow has been conducting interviews as part of the investigative process, according to two of the sources.
None of her interviews have been on-camera, but interviews by others in the investigation have been. That suggests the network may produce a television segment about the Williams controversy.
The developments in this story were confirmed by multiple sources with knowledge of the situation. Representatives for NBC declined to comment.
Related: Will Brian Williams return?
Meanwhile, Williams remains on the bench. His usual substitute, Lester Holt, anchored the "Nightly News" on Monday. Preliminary Nielsen ratings, provided to the networks on Tuesday morning, showed Holt slightly behind ABC's David Muir among 25- to 54-year-olds, but slightly ahead of Muir among 18- to 49-year-olds.
The ratings data could change, but it suggests that NBC's audience didn't reject Holt.
In announcing his leave of absence on Saturday, Williams said he'd be away for "several days" but would return.
There is widespread speculation, even inside NBC, that he won't be able to return.
The final decision will rest with Burke and his boss, Comcast (CCV) CEO Brian Roberts.
Very much involved in the conversations is David Cohen, one of Roberts' most trusted lieutenants at Comcast.
Cohen is an executive vice president who oversees public relations, lobbying, legal affairs and other issues for the company. He has been busy with Comcast's pending merger with Time Warner Cable (TWC). But the current crisis has preoccupied him in recent days, one of the sources said.
It is unclear how involved Williams himself has been in the deliberations over if and when he'll return to "Nightly News."
Williams does not have a television agent. But high-profile attorney Robert Barnett has represented him for a number of years.
Barnett, who is based in Washington and is known for his work with presidents, other politicians and media stars, was in New York on Monday and was seen at 30 Rockefeller Center, the headquarters of NBC News.
Several marketing and research firms have surveyed Americans about Williams, and the data has shown a divide between those who believe he should be replaced and those who believe he should be given a second chance at the anchor desk.
The Marketing Firm, which tracks the appeal of celebrities, said its surveying showed a steep drop in Williams' "trustworthiness" in recent days.
According to a report in Tuesday's New York Times, Williams previously ranked as "the 23rd-most-trusted person in the country." On Monday, he ranked at number 835.
Robert Familetti, a director at the company, told CNNMoney that "the last biggest drop in trust that significant was with Tiger Woods and the infidelity scandal. His trust plummeted."
--CNNMoney's Frank Pallotta contributed to this report.