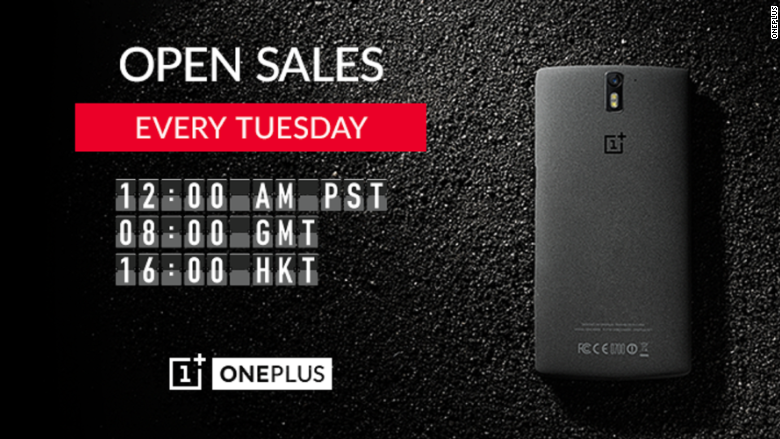 One of the most sought-after Android phones is no longer playing hard to get.
The OnePlus One smartphone has a beautiful design, some sweet software tricks and a deliciously cheap $299 price tag. But the Chinese company that sells it has been criticized for creating artificial demand for its "One" smartphone by making it available by invitation only.
On Tuesday, OnePlus said it will open up One smartphone sales to anyone who wants to buy one -- on Tuesdays only.
Every Tuesday, starting at 8 a.m. London Time (3 a.m. ET), the 16 GB white and the 64 GB black One phones will be available without an invitation.
"Although we have an active and supportive fanbase, a lot of people have interest in the One but have told us that it's just too difficult to buy," said OnePlus founder Carl Pei in a blog post. "We believe that great things should be shared."
Pei said OnePlus has been trying to ramp up production to make the OnePlus easier to purchase. The company has held a handful of pre-order and open sales events over the past several months, during which the company analyzed demand and tried to fine-tune its production schedule.
But Pei cautioned that "this doesn't mean that our beloved invite system is going away." The number of invites has risen, and Pei said that it will continue to be the standard way to buy a One on Wednesday through Monday.
People who buy their phones on Tuesdays will receive invites to share with their friends.
The One, with its "Never Settle" motto, has received stellar reviews, gaining praise for its top-of-the-line processor, screen and software.
Like Chinese rival Xiaomi, OnePlus is targeting a growing market of consumers looking for affordable, no-contract smartphones. Xiaomi's phones have been compared to the iPhone, but cost about half the price. Unlike Xiaomi's phones, the One is available for purchase in the United States.