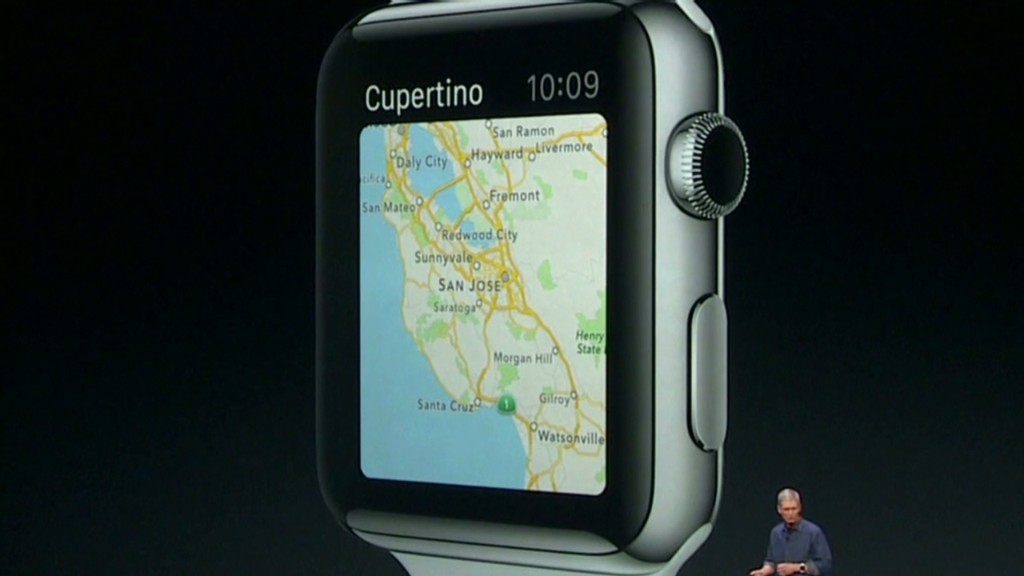 Apple's new watch may give new meaning to: An Apple a day keeps the doctor away.
Apple's first wearable device will have many of the same hallmark features as its existing products — such as a sleek design and Siri, its voice-activated command program. In addition, the smart watch will also contain a set of advanced sensors that can gather and track a variety of health data, like heart rate and number of calories burned. One particular feature even alerts wearers when they've been sitting for too long.
"A lot of doctors believe that sitting is the new cancer," Apple's CEO Tim Cook said during an investor presentation Tuesday afternoon.
Apple will start selling the Apple Watch later this quarter, but many Apple employees have already been using the device. "We have a lot of meetings and a lot of employees," Cook said. "And ten minutes before the hour, [the watch] will tap you ... and everybody will start standing up."
"It took a little while to get used to," he said.
Cook added that users will have the option to share their health-related data with physicians, which could make it easier for doctors and patients to correlate information.
Given that the Apple Watch will start at $349, many investors have doubts about how many Apple will sell. But, if enough people believe that it will make them healthier, Apple might have another hit product on its hands.
Related: The Apple Watch will flop. Here's why
During the same presentation, Cook announced Apple's plans to build a solar energy farm in California beginning later this year. Apple will invest $848 million into the project and will work with First Solar (FSLR), a solar panel manufacturer.
"We know at Apple that climate change is real. The time for talk has passed, and the time for action is now," Cook said, calling this Apple's "biggest, boldest, most ambitious project ever."
Apple became the first company in the world to reach a $700 billion market capitalization on Tuesday.