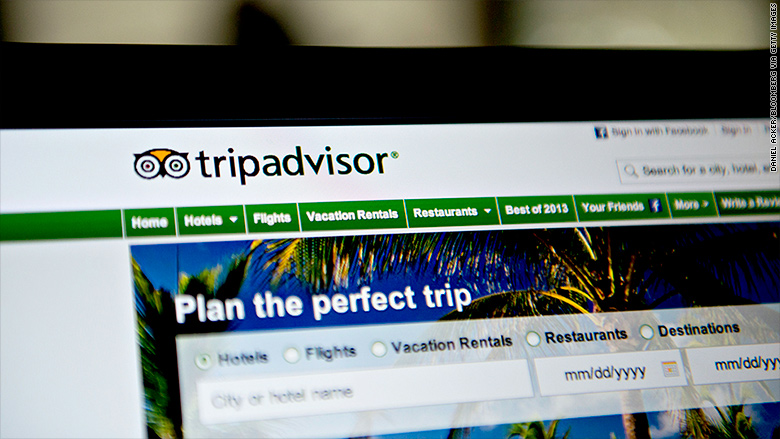 TripAdvisor really enjoyed the holidays last year and thinks this year's could be even better.
The company's stock shot up as much as 25% Thursday after it announced very strong ad sales and user traffic on its website.
The world's largest travel website had a whopping 2.5 billion unique visitors on its site last year. Its revenue grew 32% last year compared to 2013. The company predicts that momentum will continue, especially as it expands overseas.
"We're certainly impressed by their results," says Kevin Kopelman, director at Cowen & Company. "Revenue is growing faster than expected."
Related: Want cheap airfare? This is the best day to book a plane ticket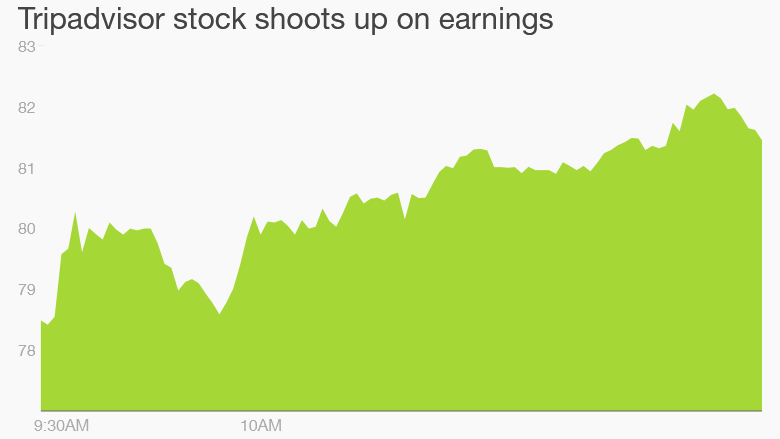 The U.S. remains TripAdvisor (TRIP)'s main market, but it's two biggest growth areas are overseas. Profits from Latin America grew nearly 90% last year, while its Europe-Africa-Middle East region saw revenues rise nearly 40%.
"Emerging markets are one of the growth areas for TripAdvisor over the next few years," says Dan Wasiolek, an analyst at Morningstar Research, noting restaurant and activity bookings are important too.
While the stock popped sharply Thursday (closing up 22.5%), it's still far from it's all-time high. At several points last year, the stock traded above $100. Now it's under $83.
Competition is certainly picking up. Rival Expedia (EXPE) made a surprise announcement Thursday that it is acquiring Orbitz (OWW). The move creates a travel-planning duo better able to compete with TripAdvisor, although that didn't seem to rain much on TripAdvisor's earnings parade.
The real problem for TripAdvisor is mobile. Traffic is growing quickly on phones and users seem to like the interface to book trips and flights. The only catch is visitors on mobile aren't as profitable.
Making money on the app, "continues to be a headwind," says TripAdvisor Chief Financial Officer Julie Bradley.
Related: Why is United Airlines suing a 22-year-old
That's a problem since the company relies on click-ad revenue, says Wasiolek. Still, he points out that the company once struggled with its tablet revenue, which is now improving. Finding that same sweet spot for mobile will be critical, especially since TripAdvisor's mobile app downloads skyrocketed 110% in 2014.
"They're seeing extremely strong growth in mobile application downloads," says Wasiolek. "It's reasonable to believe that those monetization headwinds will begin to ease as customers get more comfortable using smartphones to book travel."