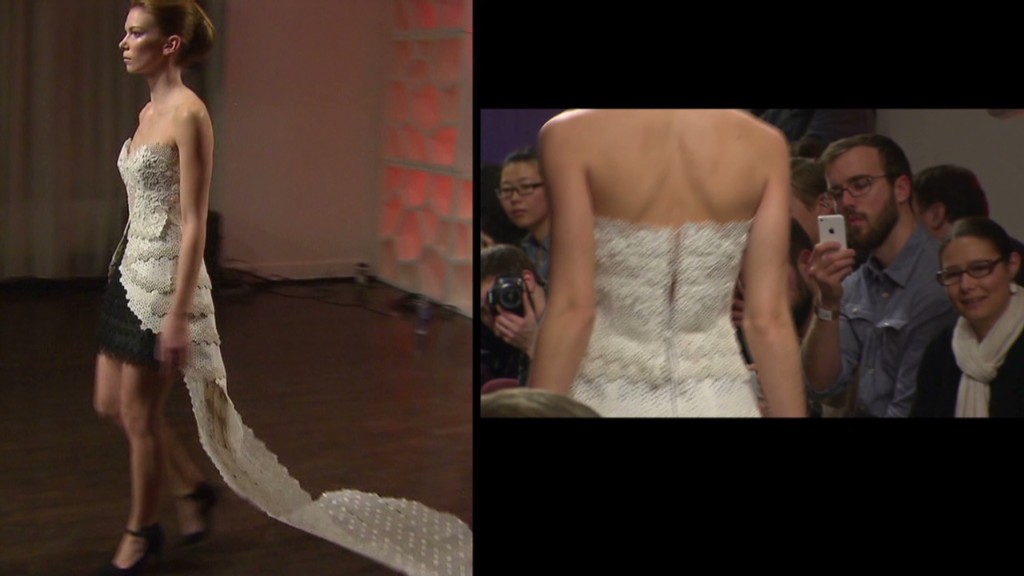 Meet Aaron Issac, the 25-year-old entrepreneur who is getting into the jewelry business and putting a new twist on an old classic.
Issac's Singapore-based company, Polychemy, is using 3-D printers to make personalized jewelry -- think nameplate necklaces available in a dozen languages, or sports team logo pendants. And forget fashion shows -- he's getting his design cues from big data.
"We're a very data-driven company; we analyze what people are searching for on Google," Issac said. "People are searching for things that are very specific -- for example, a gold ring with a diamond, ring size 8.5. We try to measure the demand, and then we develop that type of jewelry."
Experts say Issac has tapped into a sweet spot, and that specialized companies like Polychemy will see the biggest growth as the 3-D printing industry explodes. The overall market for 3-D printed goods is expected to quadruple to $16.2 billion by 2018, according to tech research firm Canalys.
Because it's still too expensive and complicated to use high-quality 3-D printers at home, commercial outfits will be in demand as consumers look for ways to produce original designs.
Related: 3-D printed organs are on the way
3-D printing is a great technique for producing jewelry, because "what people want is something special, and there's nothing better than to produce something with someone's name on it, a symbol that is important, perhaps even a picture or an object valuable to the person," said Joe Kempton of Canalys.
So how exactly does a 3-D printer make luxury jewelry?
At Polychemy, 3-D printers produce a wax mold that is cast into metal; gems are then set before the entire piece is polished.
Polychemy has about 40 customizable jewelry designs that sell for $100 to $250 apiece, and customers have their pick of precious metals, gems and text. One software program generates a unique snowflake design from a few billion possibilities each time a user clicks refresh. "You'll never get the same one, just like a real snowflake," Isaac said.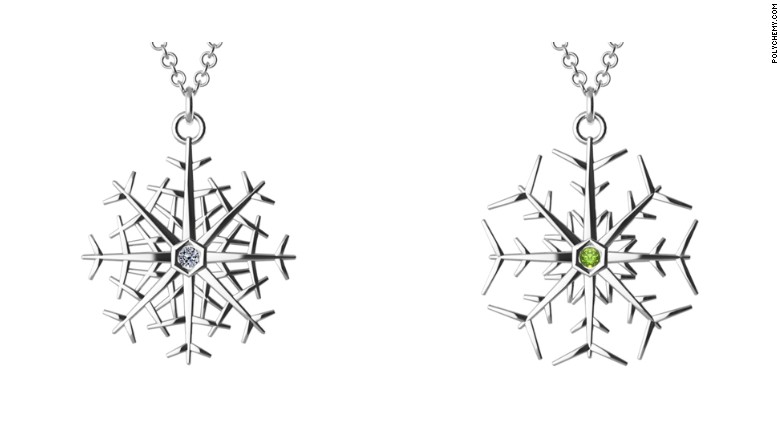 Related: Now this exists: A 3-D printed drone
Customers can go for a necklace pendant of a QR code -- a square barcode that can be scanned with devices, such as a smartphone. Issac said one customer even encrypted his Bitcoin wallet on the QR code pendant.
Like many other entrepreneurs, Issac has his sights set on China's growing e-commerce industry and 1.4 billion consumers -- he expects Polychemy's Chinese nameplate necklaces to be a hit.
"We realized that there was [online] search traffic for name necklaces in other languages -- Japanese, Korean, Chinese," he said. "Most companies don't do this because it's too niche ... but we can combine all the niches together and capture a lot of this market."