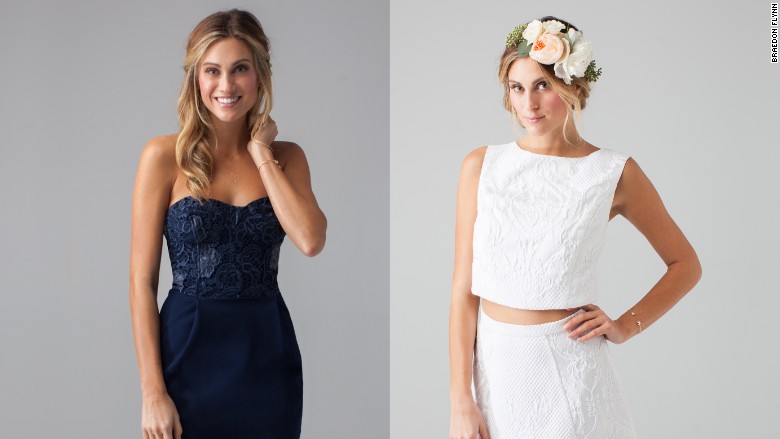 Pinterest-style wedding site Loverly is turning its data into dresses.
On Thursday, the three-year old startup unveiled the first Loverly Collection: 35 unique wedding and bridesmaid dresses.
Using the most popular content on the site, Loverly determined the styles, fabrics and colors for the collection. It partnered with designer Eva Franco, who sells her work at stores like Anthropologie and Nordstrom (JWN).
"We always knew we wanted to do commerce and content," said Kellee Khalil, founder of Loverly. "But we didn't know how it was going to come to life."
Until now, Loverly has been a one-stop online shop for all things wedding -- but it didn't have any physical products. The site has its own editorial content and also features products from 150 partners (like David's Bridal and Donna Morgan).
Related: Money can buy you love -- or at least make you dateable
Each photo on the site is tagged with everything from style to color to length, and Loverly tracks how often terms are searched and what users click on most often.
In July, Loverly started digging into this data for trends and discovered that crop tops were trending. That was reinforced during October's Bridal Fashion Week, where Khalil said "a lot" of designers had collections with one or more items that were crop tops.
But these designer duds are sold at couture prices.
The Loverly Collection has three "separates" (top and bottom ensembles) as part of its new line, as well as pantsuits and, of course, dresses. Everything in the new line is under $450.
"There's no major bridal designer now that actually has pantsuits in their collection," said Khalil, 30.
The data-driven line comes on the heels of hiring Peggy Fry (previously of social engagement platform AddThis and Netflix (NFLX)) as president in June. "Her background is in monetizing data," said Khalil.
Related: Apps compete for online daters
The innovative approach gives designers a safety net as well.
"You feel more confident about your choices," said Franco, about the data-driven collection.
But the data wasn't without some surprises.
"People are really into grey," said Franco. "That just wouldn't be a color I would think of in the bridal collection."
Loverly is already working on its next two dress collections. And it's planning to roll out a data-driven stationary collection (with Wedding Paper Divas) and a floral line (with H.Bloom).
The firm, which has raised $5 million from investors including Great Oaks and Female Founders Fund, has already surpassed its 2014 revenue this year. And it's only February.
While the startup isn't profitable yet, if all goes well, Khalil expects they'll break into the black this year.