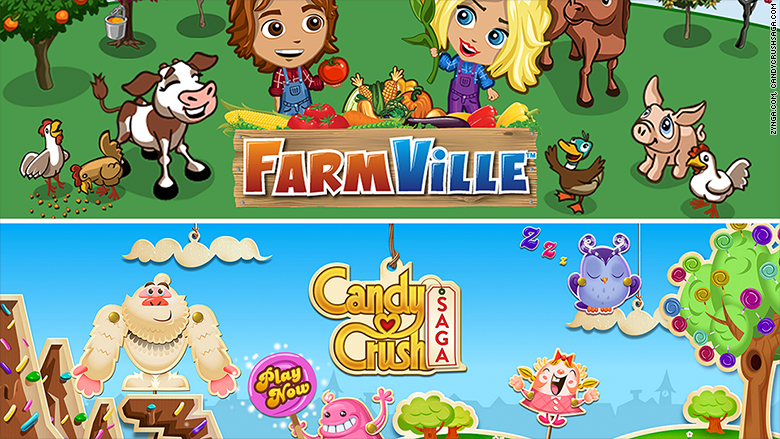 Wall Street has a clear favorite between Candy Crush Saga and Words with Friends.
The stock of King Digital (KING), the maker of Candy Crush, surged 13% Friday, while Zynga (ZNGA), the company behind Words with Friends and FarmVille, plummeted over 15%.
"We see two companies on very divergent paths," says James Gellert, CEO of Rapid Ratings, a research firm in New York. "King has had all the buzz over the last year. I think Zynga has fared poorly in contrast to King."
Only a few months ago, both of these companies looked like one hit wonders that were limping along on past glories. Players were on to the next big thing.
Related: Zynga founder went from FarmVille to the pot business
King had the Wall Street equivalent of an epic fail last March when its stock debuted and quickly dropped from $22.50 to close at $19. Normally stocks bounce on IPO day, but not this time.
But King is managing a second act. Its newer hits include Bubble Witch Saga and Candy Crush Soda Saga, a spin-off of its popular mobile game where players have to get similar characters together.
Investors like what they see. King pulled in $545 million in revenue compared to analyst's expectation for $515 million.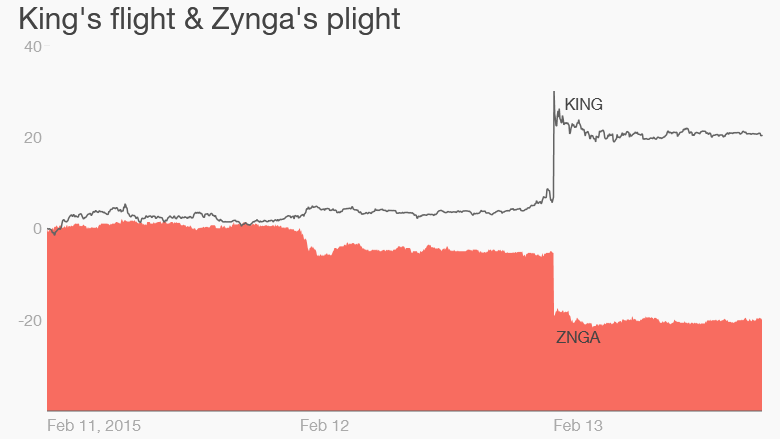 King also announced the purchase of Seattle gaming company Z2, whose added games will, "quell fears that King will be a 'one hit wonder' company," Gellert says.
There's momentum again, although it's important to note that King stock is still only trading at about $16.50.
For Zynga, it's looking more and more like "game over," at least for this round. Rapid Ratings, which rates companies health and prospects on a scale of 0 to 100 gives King an 81. Zynga only received a 14.
Although Zynga's revenues were up from a year ago, their fourth quarter results were below expectations. Even worse, its number of monthly users dropped 3%.
Zynga CEO Don Mattrick needs to resign, says BTIG Research analyst Richard Greenfield.
Related: Candy Crush(ed): Stock drops 20%
"We have been highly skeptical of Zynga's prospects over the past two and a half years," Greenfield wrote in a report, noting the time when BTIG downgraded its rating on Zynga.
Zynga's stock was nearly $5.90 a share about a year ago. It's less than half that now. The company announced Thursday that it's closing its office in China and firing over 70 employees there.
Perhaps Zynga needs to start playing numbers with friends.