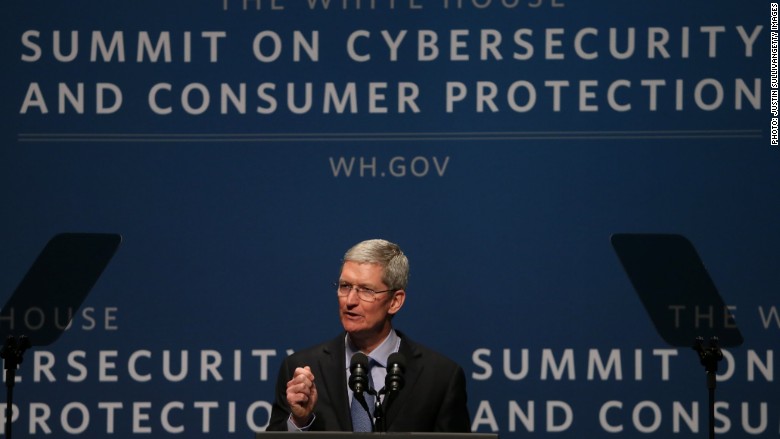 Tim Cook took the stage at the White House cybersecurity summit Friday, and defended Apple's right to protect its customers' privacy.
It's a matter of Apple (AAPL) protecting human rights, he said.
"People have entrusted us with their most personal information," the CEO said. "We owe them nothing less than the best protections that we can possibly provide by harnessing the technology at our disposal. We must get this right. History has shown us that sacrificing our right to privacy can have dire consequences."
He then argued that the world is still too intolerant and violent, which can put many people at risk.
"We still live in a world where all people are not treated equally," said Cook, who recently came out as gay. "Too many people do not feel free to practice their religion, or express their opinion, or love who they choose -- a world in which that information can make the difference between life and death."
What's this all about? Apple last year implemented extra security making it impossible for the government to secretly spy on iPhone users. Only users have the key to unlock text messages and documents.
Related: Hackers are stealing your tax refund
So the FBI can still demand a password to the documents with a warrant. But it can't secretly grab a key from Apple. The company doesn't have one.
Since then, several governments and law enforcement agencies have lambasted the company for providing a yet-impenetrable shelter for criminals.
But in the computer world, there's a simple rule of logic: Less privacy means less security. Any open back door for government agents is also an open door for criminals.
Cook said Apple is unwilling to lower its protections -- especially as people increasingly put more sensitive personal information on their phones. Apple Pay -- a secure, digital wallet -- is only the latest example.
"We shouldn't have to trade our security for the convenience of having all of this information at our fingertips," Cook said. "Our customers' trust means everything to us. We spent decades working to earn that trust."
Cook's position is at odds with what most governments want. It's worth pointing out that he was speaking at a cybersecurity summit where President Obama signed an executive order for government and private companies to share more information -- quickly -- about cyberattacks.
While security experts largely support this effort, there's concern about a cozier relationship between the federal government and companies that house private data -- especially since ex-NSA contractor Edward Snowden revealed how the government spies on Americans.
In a speech following Cook's remarks, the president spoke of a balance between privacy and security.
But the surveillance issue has driven a sharp wedge between Silicon Valley and the federal government. Which is also probably why the CEOs of Facebook (FB), Google (GOOG) and Yahoo (YHOO) were all missing from this important meeting. And it explains Cook's closing remarks.
"If those of us in positions of responsibility fail to do everything in our power to protect the right of privacy, we risk something far more valuable than money," he said. "We risk our way of life."