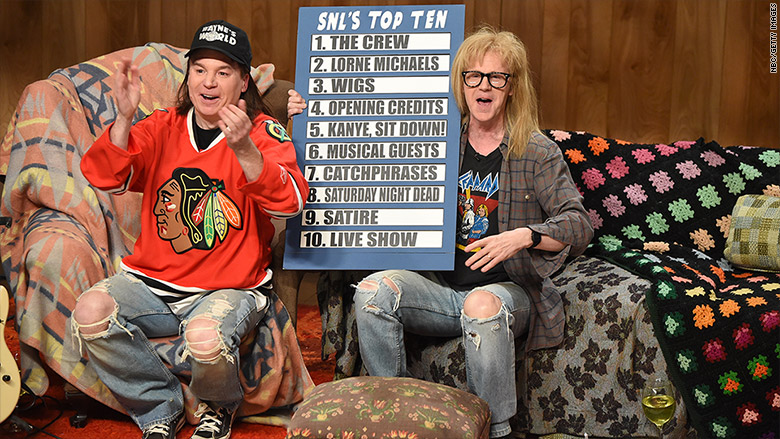 "Saturday Night Live 40" was a big ratings win for NBC Sunday night.
The 40th anniversary celebration of the comedy institution brought in a massive 23.1 million viewers for NBC.
The star studded affair, which felt more like an awards show than an episode of "SNL," had ex-cast member Tina Fey and others mingling with Hollywood stars like Tom Hanks and legendary musicians like Paul McCartney.
The show's three-hour plus run time also included the return of some of show's most beloved sketches like "Wayne's World" along with tributes to the show's cast and crew.
"SNL 40" even had its own red carpet special hosted by stars from the "Today" show: Matt Lauer, Savannah Guthrie, Al Roker, and Carson Daly.
Excluding Super Bowl programs, "SNL 40" was NBC's most-watched primetime entertainment telecast in more than 10 years.
Related: Who will replace Jon Stewart on 'The Daily Show'
The big ratings for "SNL 40" are even more impressive when considering that viewers had plenty to choose from on Sunday night.
The special had to compete with AMC's ratings juggernaut "The Walking Dead" along with the NBA "All Star Game" from New York's Madison Square Garden on TNT.
By comparison, "The Walking Dead," one of the highest-rated TV shows, brings in between 13 and 17 million viewers each week.
Related: Tina Fey's sitcom moves from NBC to Netflix
While a ratings success for the Peacock network, "SNL 40" had some uncomfortable moments for NBC. Comedians like Jim Carrey brought up the Brian Williams' controversy from the week before.
"Can I ask you a question, you guys? Where are you hiding Brian Williams?" Carrey asked Matt Lauer during a pre-show interview.
Lauer, looking a bit uncomfortable, avoided the question with a quick joke.
"Oh, look at the time," Lauer said wrapping up the interview. "Thank you, Jim!"
During the show, comedian Martin Short also mocked the situation.
"Do you realize that if this roof were to collapse right now, it would be the least of NBC's problems?" he quipped.