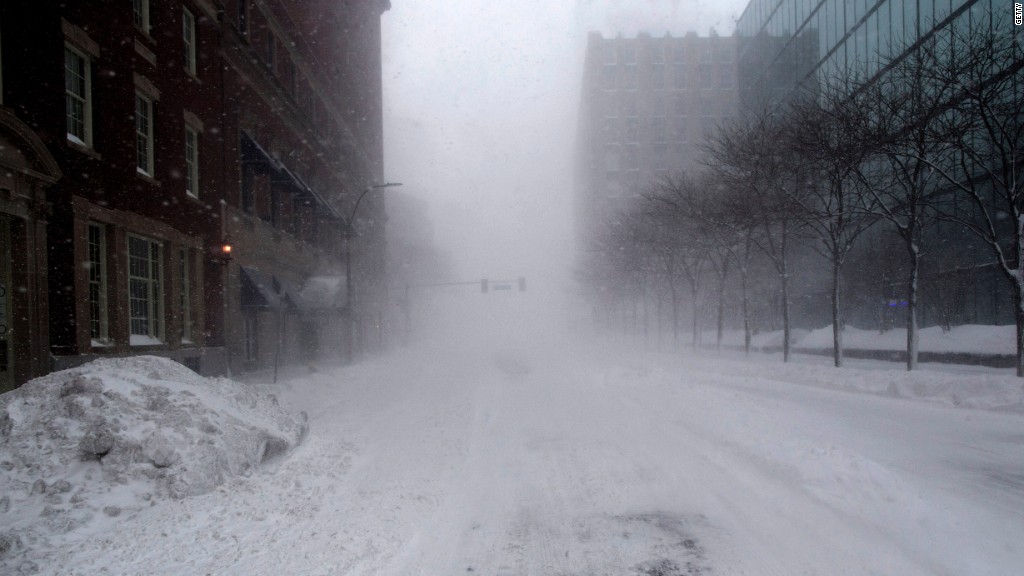 If you live in bone-chilling Boston, you may be booking a flight to Miami right now. The U.S. economy could use some more sun, too.
Boston is digging out of nearly five feet of snow in just the last two weeks. Businesses have shut down, meaning people miss out on wages and stores lose potential sales. Snow removal alone has cost Boston more than $30 million, the city's mayor said.
That's not good for Boston or the U.S. economy: this winter's blizzards could cost the nation $1 billion to $2 billion this year, according to Planalytics, a weather research firm for businesses. And that's just the tally so far.
Related: who are the winners and losers in winter weather?
Although that sounds bad, this winter looks balmy compared to the Polar Vortex of 2014, which cost the economy $15 billion, according to Planalytics. Some other estimates for last year were lower than Planalytics', but still significantly higher than this year.
The polar vortex was no joke: America's economic growth was actually negative 2.1% for the first quarter of 2014. That dismal gross domestic product (GDP) figure put a real dent U.S. economic growth for the whole year.
Estimates for the first quarter this year are much more positive, with some GDP projections above 3%. The winter weather rut this year is partially offset by the cheap cost of gas, which is giving many American's a boost to their pocketbooks. A typical driver is expected to save $750 this year.
Related: 4 stocks popping thanks to Snowmageddon
Time will tell whether the blizzards are enough to send the U.S. economy into negative territory again this winter.