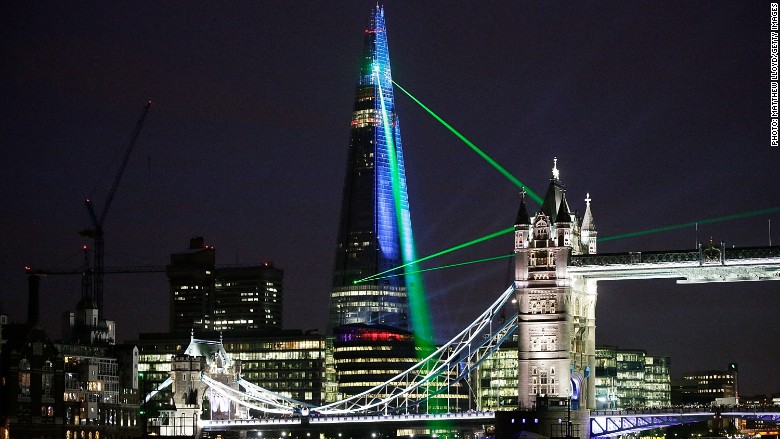 Planning a visit to London? Make sure you check out A tower allowing us to pluck stars from the sky.
That's the new name suggested for The Shard, the tallest building in Western Europe.
Britain hopes the new name will attract more Chinese tourists.
Tourism agency VisitBritain has released 101 new Mandarin names for high-profile sites provided by the Chinese public following a social media campaign.
Among the other suggestions announced Monday, world renowned suit-making street Savile Row becomes Tall, rich, handsome street, while Roman ruin and top U.K. attraction Hadrian's Wall will be rebranded Wall of Eternity. Scotland's pretty Loch Lomond region becomes Mountain Lakes Get You Drunk on Dreams.
Late last year the tourism agency announced a few other Chinese monikers for famous landmarks including huge stone clusters for Stonehenge, and A white, gold and splendid palace for Buckingham Palace.
It's now up to the attractions to decide whether to use the new names. A spokesperson for VisitBritain said Stonehenge and Hadrian's Wall will use their Chinese names on welcome signs, and the response from other attractions has been positive.
Related: Driverless cars debut on U.K. roads
It's all about securing more of China's tourist dollars. Britain wants to double the value delivered by Chinese vacationers to around £1 billion ($1.6 billion) by 2020. Chinese tourists spent an average of £2,508 per visit to the U.K. in 2013, well above the average outlay of £640.
Last year was a record year for tourism in Britain: 34.8 million people visited the U.K. in 2014 -- up by nearly 2 million a year earlier.
It's one of the signs of an improving economic picture in Britain. Falling oil prices and low inflation is expected to keep supporting a recovery that saw the economy grow at its fastest rate in seven years in 2014.
Still, just three months out from a general election, many living in Britain feel they aren't seeing the benefits of recovery as wages remain depressed and cost living pressures bite.