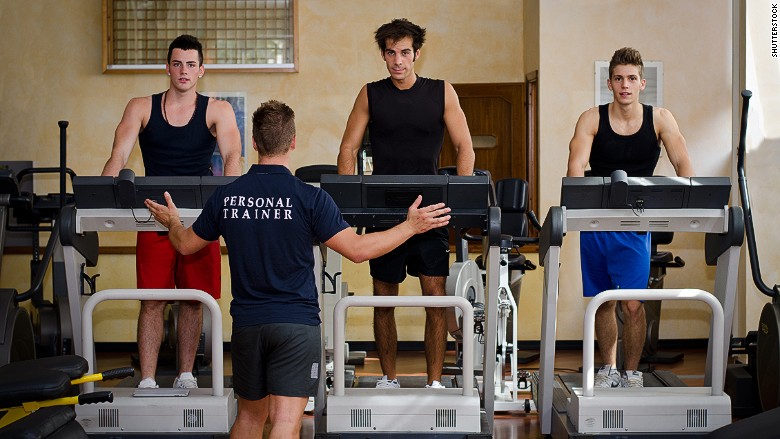 A personal trainer may seem like a luxury only the wealthy can afford.
But there are ways to get the individual attention and benefits of a trainer, even on a smaller budget.
Partner up
Sharing a session with just a few others can spread out the cost, while maintaining some level of a personalized workout.
Partner and small group training sessions are gaining traction because they offer access to more affordable workouts, and can also be financially beneficial to trainers.
"You can pay for three to four semi-private training sessions for the equivalent of a single one-on-one session," said San Diego-based personal trainer Pete McCall.
Small groups can also help ease potential social awkwardness during a private workout, he said.
McCall advised capping the group size at eight. "Anything higher and it becomes hard for a trainer to monitor and have one-on-one connections."
Go off peak
If you have some flexibility with your workout schedule, booking a personal training session at off-peak hours can bring savings.
According to McCall, some gyms and trainers put a premium on sessions booked right before and after regular business hours. Waiting until slower time periods, like 10:00 am or 2:00 pm, can shave 30% off the normal price, he said.
Go virtual
If you have a webcam, an internet connection and some open space, you can get a personalized workout without having to leave the comfort of your own home.
At Wello, you can work out live with a personal trainer or join a semi-private class. One private session is $29 for 30 minutes or $49 an hour, and group classes (no more than five people) are $14. There are also membership options, and you can book a session weeks in advance or sign up right before a class starts.
Trainers on the platform specialize in various fitness areas, including circuit training, yoga and martial arts. "Trainers can really fine tune your form and see if you are slightly out of balance and make small tweaks," said Wello Co-founder Leslie Silverglide.
Related: Can enough money buy you eternal youth?
At online coaching platform FitOrbit, users are matched with trainers based on answers to health and wellness questions, and the trainer creates fitness and meal plans to meet specified goals. Users log and track their workouts online, and the trainer provides feedback and evaluations.
The company offers different programs, and standard weekly pricing starts at $16.99 for a three-month plan and $11.50 for six months, said Nicky Besuden, director of marketing and partnerships for FitOrbit.