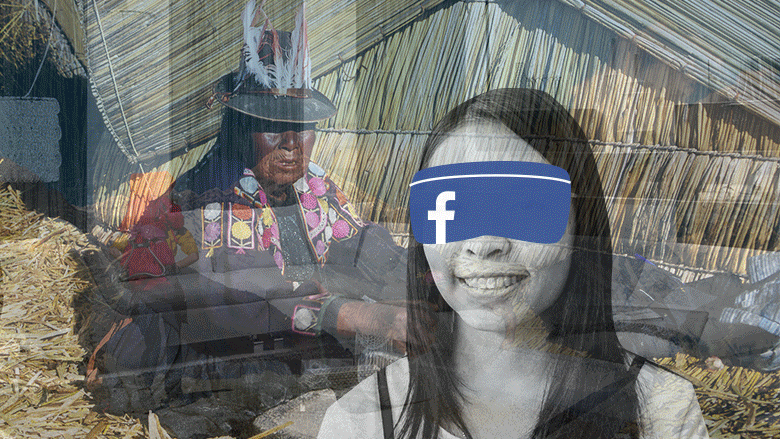 Forget plain, flat photos. In the future, Facebook wants you to share a 360˚ view of your exotic experiences too.
Facebook (FB) is working on integrating virtual reality into your newsfeed. The company's head of product, Chris Cox, explained the company's vision Tuesday night at the Code/Media conference in Dana Point, California.
Cox said Facebook has even developed a few demo versions.
In one, users can be virtually inside the cockpit of an F/A-18 Hornet flying over Colorado with the Blue Angels, the U.S. Navy's flight demonstration squadron. In another, a person can be transported to Mongolia and be inside a tent with a woman cooking food and a fire nearby or check out the sweeping vista.
"Not a lot of people are going to get to Mongolia in their life. I've never been," he said. "You can look around. It's beautiful. And you immediately understand it's like one of these things ... the first time you're in it, you realize you're looking at the future."
And people can share their experiences on Facebook. Cox said it adds another dimension to what people are sharing already: photos, videos, text, ideas, thoughts.
Last year, Facebook spent $2 billion to buy startup Oculus VR, which makes a virtual reality headset with visuals and audio.
At the time, Zuckerberg said that Facebook would help accelerate Oculus' plans to make immersive games and environments.
"But this is just the start," Zuckerberg wrote. "After games, we're going to make Oculus a platform for many other experiences. Imagine enjoying a court side seat at a game, studying in a classroom of students and teachers all over the world or consulting with a doctor face-to-face -- just by putting on goggles in your home."
On Tuesday, Cox said he expects average Facebook users to take part in this.
"You'll do it, Beyoncé will do it," he joked.
But don't expect this to come out anytime soon. The Oculus Rift headset isn't even out yet for the general public, and there's no telling how popular (or expensive) it will be.
The wait time? "Probably a while," Cox said. "We're a long way away from everybody having those headsets."