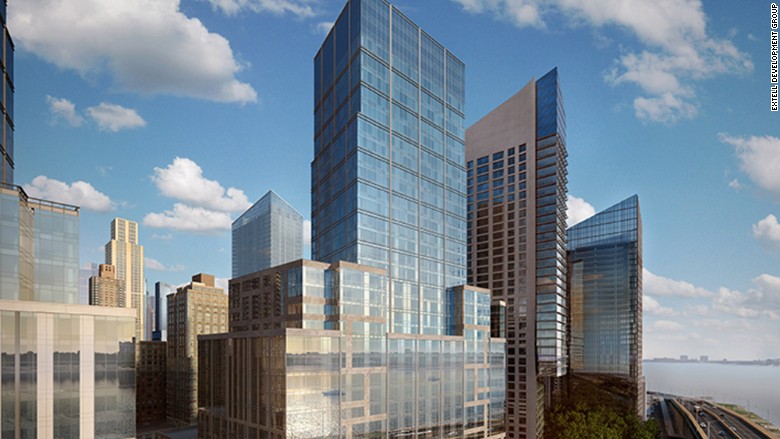 The luxury apartment building in New York City that sparked controversy for its so-called "poor door" has started accepting applications from low-income renters.
The 33-story complex has 219 luxury condos -- the cheapest is a 1-bedroom apartment for $1.07 million.
But the building also has 55 apartments for rent to low-income tenants, with a studio available for $833 a month.
The low-income renters, however, will not have the same entrance as the luxury buyers. They will have a separate entrance on the side, popularly referred to as the "poor door."
While it's not the only building in the city with such a door, critics called out the practice as a form of income segregation. To qualify for below-market rates, tenants cannot earn more than $50,304 for a family of four.
The building started accepting rental applications Wednesday. The city did not immediately respond to a request for information on how how many people have applied so far.
Besides grand river views, owners of the luxury condos also have access to extravagant perks, including a pool, bowling alley, rock climbing wall, a golf simulator and a screening room.
The low-income renters will have street views, a community room and bike storage.
The rentals are not equipped with dishwashers or washer/dryers, but there is a laundry room in the building. Parking is available for a fee.
Related: Where the super rich are buying homes
The top rent for a two-bedroom apartment is $1,082.
Meanwhile, there is a seven-bedroom, nine-bath "tower townhome" for sale in the building for $25.7 million.
Owners must pay extra for the amenities they enjoy. The common charges, which vary based on the size of the condo, start at $2,224 a month.
Related: Is ending segregation key to ending poverty?
It wasn't supposed to be this way.
The building was part of the city's "Inclusionary Housing Program," and was designed to include affordable options in luxury condominiums in an effort to mitigate inequality in affluent areas.
The program, enacted in 2009 under former New York City Mayor Michael Bloomberg, gives developers tax breaks and more space in exchange for building affordable housing either in the building itself or close by.
In theory, the program gives families who couldn't afford to live in the city an opportunity to live in good school districts and new buildings. But in practice, critics say it's leading to a new kind of inequality.
-- CNNMoney's Emily Jane Fox contributed to this report.