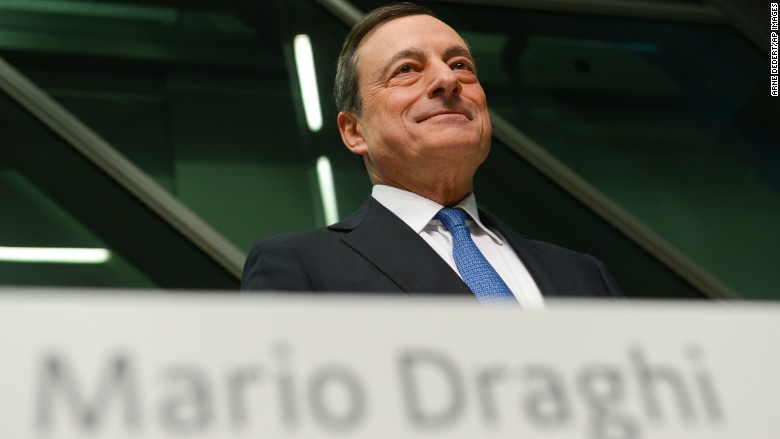 The first-ever peek inside the normally-secretive European Central Bank's monetary policy meetings shows bankers were divided over the landmark €1.1 trillion stimulus program.
Some participants at the historic January meeting opposed the program's timing, saying there was "no urgent need" for the massive bond buying measures, according to minutes the bank released Thursday. Others said this kind of stimulus program should only be used "as a last resort" if deflation spiraled out of control.
But those voices were drowned out by the "large number" of central bankers who wanted to trigger the program and shield the economy from deflationary pressures.
The central bank is tasked with ensuring price stability in the eurozone, and it targets inflation levels just below 2%.
In December -- right before the meeting -- the eurozone experienced deflation for the first time since the Great Recession, in part because of rapidly falling oil prices. Many were concerned that, without action, inflation would stay "too low for too long."
In a bid to boost the economy and inflation, some ECB members even discussed buying corporate bonds instead of just government bonds. But this strategy was considered to be too "limited" to be effective.
Related: 3 reasons why the ECB stimulus matters
Many outside observers were expecting more fireworks from these meeting notes. Overall, they were considered relatively tame, though experts looked closely at the points of disagreement.
It was reported by financial media that German, Dutch, Austrian and Estonian central bankers were opposed to triggering the stimulus program, which will run from March until the end of September 2016.
"Unless the inflation outlook deteriorates further, divisions [within the ECB] are ... likely to place continued limits on the policy's size and effectiveness," said Jennifer McKeown, senior european economist at Capital Economics.