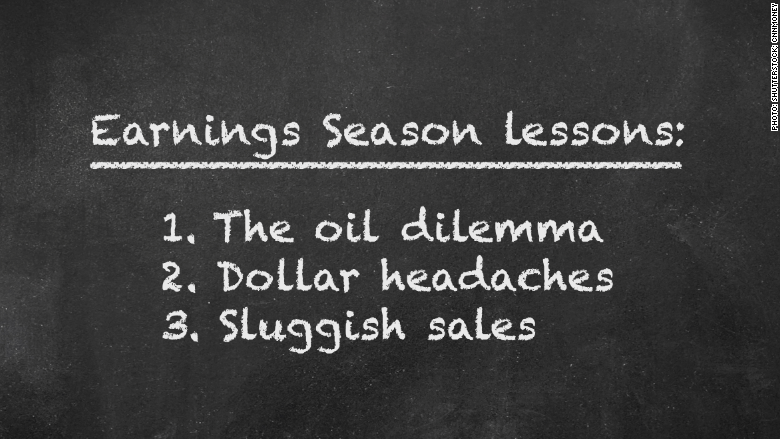 After an avalanche of earnings results in recent weeks, one thing is clear: Corporate America is worried about 2015.
The red flags: many companies warned that oil prices and the strong U.S. dollar could hurt sales this year.
Multinationals, ranging from Caterpillar (CAT) and Microsoft (MSFT) to McDonalds (MCD) and Procter & Gamble (PG) are worried that the strong dollar will drag down their overseas earnings in the coming months. And energy giants like Exxon (XOM) and Chevron (CVX) are concerned about the impact that volatile oil prices will have on demand and the economy in general.
The warnings came at the same time as some companies reported stellar results. Apple (AAPL) led the way, reporting the best quarterly profits in corporate history. Other tech and Internet companies, such as Netflix (NFLX) and Amazon (AMZN) also hit their stride.
Related: why this tech party isn't like 1999
These factors will have a big say on when the Fed decides to raise interest rates for the first time since 2006. Federal Reserve Chairwoman Janet Yellen will be in the hot seat Tuesday and Wednesday when she testifies before Congress.
A rate hike could shake up the markets, but it would signal that the Fed believes the U.S. economy is healthy.
Going into Yellen's important week on Capitol Hill, here are three takeaways from corporate America's earnings season:
Related: Apple accused of stealing employees from battery maker
Oil's impact? The impact of falling oil prices is a toss-up. Many economists say it's a good thing because consumers will eventually have more money to spend.
But energy companies are laying off workers, cutting down production and lowering their earnings expectations. Chevron (CVX) plans to spend 13% less this year than in 2014 to pump crude. Halliburton (HAL) is laying off 6,400 employees.
And consumers aren't yet spending the money they're saving from cheap gas. It could be another six to nine months before that happens, said Tim Anderson, managing director at MND Partners.
Related: Robert Shiller is buying Europe
The strong dollar can hurt more: The value of the U.S. dollar against major currencies has risen over 15% in the past year. Although it translates to more dinero for Americans traveling abroad, it reduces the value of earnings overseas.
About 20% of S&P 500 companies mentioned that the dollar is impacting their sales outside the U.S., according to Christine Short, senior vice president at Estimize, which crowdsources earnings estimates.
Coca-Cola CEO Muhtar Kent called 2015 an "uncertain and volatile macroeconomic environment," partly because of the dollar's strength.
Related: Tech stocks are on fire: How high can they go?
Sales need to get better: Profits are growing for lots of companies, but that doesn't always mean business is booming.
Profits rose 4% for S&P 500 companies in the fourth quarter, but sales only grew 1% compared to a year ago, according to BTIG Research.
Sales are a better indicator of performance. Often companies can cut costs in a variety of ways to make profits look rosier.
DuPont (DD), for instance, is cutting employee bonuses and freezing salaries. It reported a nice increase in profits, but sales declined from last year. And Cisco (CSCO) bought back stock from its shareholders, which helped it report better earnings per share compared to sales growth.
Cost cutting and share buybacks are two ways to boost profits, even if sales are poor.
It's hard to fake the sales number, points out Short.