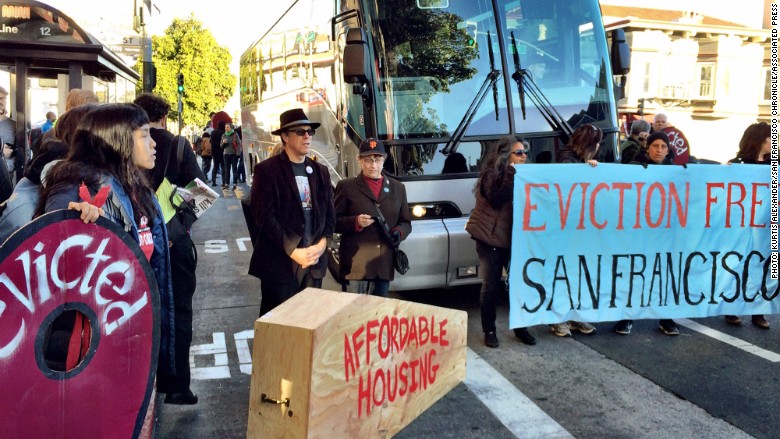 Facebook's bus drivers are poised to get a significant raise.
Most of the 90 drivers who ferry workers to and from the Facebook (FB) campus in Silicon Valley voted Saturday in favor of a contract that would boost their wages and address a major scheduling issue, according to the Teamsters.
Some would get an increase of as much as $9 per hour, though the average increase would be about $5 an hour, according to Rome Aloise, a union official who negotiated the contract with Loop Transportation, which was hired by Facebook.
The agreement must still be approved by Facebook, Aloise said.
In San Francisco, the buses used by Facebook -- and similar services used by other Silicon Valley companies -- are seen as an icon of income inequality: Well-paid tech workers boarding coaches in neighborhoods where the less well-off are struggling to keep up with skyrocketing rents.
Related: Tech workers squeezing out renters in San Francisco
The drivers, said Aloise, are currently paid on average of $17.93 an hour. Loop Transportation has previously said its typical wage is between $18 and $20.
Neither Loop Transportation nor Facebook responded to requests for comment on Sunday.
Under the new contract, base wages would increase to between $21 and $25, according to Aloise. In three years, wages would fall between $22.50 and $28.50.
The contract also addresses a scheduling concern of the drivers: split shifts.
Drivers said they work several hours for the morning commute, then return to the bus depot and sit unpaid for several hours before returning to their route for the evening commute. Some have said their schedules meant 12- or 16-hour days, though many hours were unpaid and unproductive.
In the future, drivers who work both the morning and evening commute would receive 10% shift differential pay, and those who work only mornings or evenings would be paid for at least six hours of work per day.
Related: Sex, drugs and Silicon Valley
The contract also includes health benefits, a retirement plan and workplace policies, like a grievance procedure, Aloise said.
And Facebook's drivers may not be the only ones to be covered by a union contract.
The Teamsters said drivers for Compass Transportation -- which has contracts for Apple (AAPL), eBay (EBAY), Yahoo (YHOO) and games maker Zynga (ZNGA) -- will vote Friday on unionizing, the first step toward similar contract negotiations.