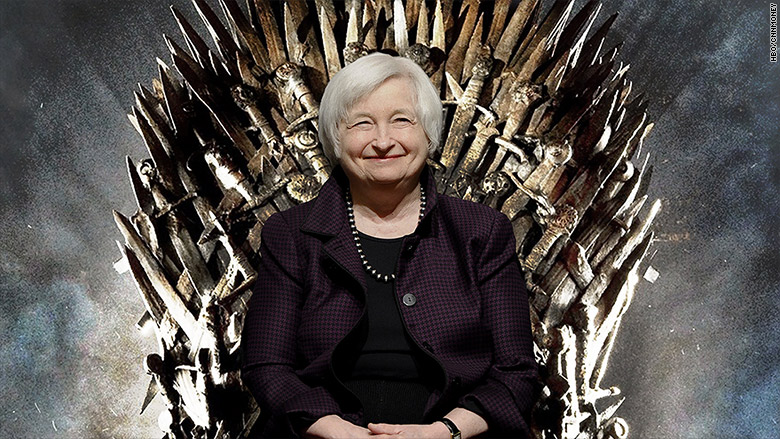 The next season of "Game of Thrones" doesn't start until April, but if you're looking for drama now, pay attention to the U.S. economy this week.
Federal Reserve chair Janet Yellen testifies in front of the U.S. Senate on Tuesday and the House on Wednesday. Don't expect her to get a lot of hugs and high fives.
The stakes are incredibly high as the Fed debates when to raise interest rates off their historic lows near zero. If the Fed times the increase correctly, the U.S. economy will continue to lift off. If the Fed gets the timing wrong, America could end up in another recession.
Keep in mind the Fed hasn't done a hike since 2006, when everything looked pretty rosy for the economy.
Related: America Inc. warns of turbulence ahead
The world is in a very different place now. It's a lot of pressure on the 12 people who make up the Fed committee that decides when to pull the trigger on a rate hike.
The power struggle is on: By Washington standards, this is akin to a Game of Thrones episode ... with more glasses and gray hair.
The normally congenial Fed members are starting to be a lot more vocal about their views.
Related: Janet Yellen vs. Republican Senate
Dallas Fed President Richard Fisher believes the Fed should act soon to start raising rates. In a speech earlier this month, he said his fellow Fed members are "at risk of monetary Alzheimer's."
"As I have repeatedly reminded my [Fed] colleagues, every single time the Fed has waited for full employment to be achieved before starting to withdraw accommodation, it has ended up driving the economy into recession," Fisher said.
Yellen and other Fed members have stressed that any decision to raise interest rates this year will depend on continued improvement in the U.S. economy, especially unemployment closing in on the long-term goal of 5% or so (it's currently 5.7%) and inflation nearing 2% (it's currently a mere 0.8%).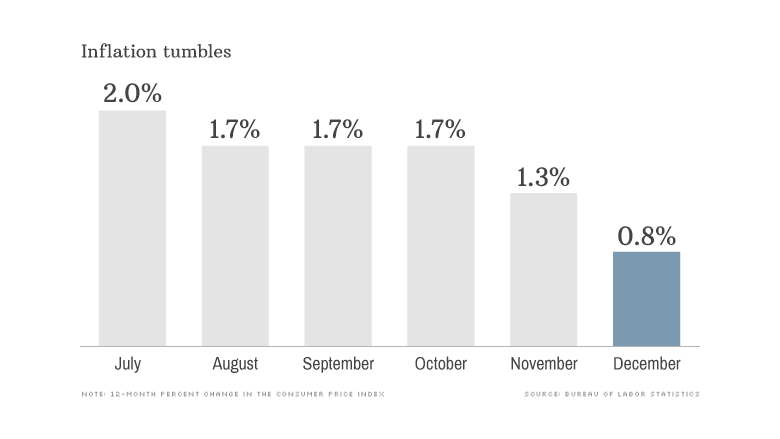 Wall Street's consensus is that a rate hike will happen in June, but every word of Fed speeches and statements is scrutinized.
Related: Rand Paul wants to 'Audit the Fed.' Why?
Congress weighs in: Congress and Wall Street are also trying to influence the action. Republican Senator Rand Paul has gone as far as to launch a campaign aimed at getting more political influence over the Fed's policies. A fund-raising site he put together called "Audit the Fed Money Bomb" has already raised over $88,000.
On the left, Democratic Senator Elizabeth Warren has been outspoken that the Fed came to Wall Street's rescue after the 2008 financial crisis and forgot Main Street.
March will mark the sixth straight year of the stock market going up. It bottomed out in March 2009 -- shortly after the Fed took extraordinary measures to pump a lot of money into the economy.
Things haven't been as great on Main Street. While employment is picking up, wage increases are still hard to come by.
As Yellen said last year, "In some ways, the job market is tougher now than in any recession."
Of course, Fed members are quick to point out that had they not intervened during the Great Recession, the U.S. would likely look a lot like Europe right now: stalling and on the verge of a possible double-dip recession.
Related: Obama says wages are growing. They're not
Bigger debates ahead: At heart, all of this strife comes back to nerves about the first rate hike. It will impact everything from mortgage and bond rates to how much interest you get on your savings in the bank.
America hasn't done one of these in awhile, and it hasn't done a hike coming off such a deep recession in an even longer time frame.
The other backdrop to all this is that the Fed board has 12 seats. Two are currently vacant. They are awaiting nominees from President Obama who will need confirmation from the Republican-held Senate. It could shift the dynamic of the Fed's policy setting.
Furthermore, what happens after the first rate hike is critical. Will the Fed do a bunch of small and quick increases in the months following the first raise? Or will it do a few larger increases? That's equally as important to get right, if not more so, but few are talking about that yet.
This week's fireworks: All of this is likely to come up at the hearings this week.
Investors will be watching for any hint of clarity on when a rate hike will be coming. Congress will be listening for ideas on how to impact Fed policy. And Main Street will want to hear continued optimism about the U.S. economy and, especially, wages.
Tension is high, and the players are starting to take shots at each other.
"In the end, we get things done ... Congress does not," Dallas Fed President Fisher, who will retire in March, likes to remind America.