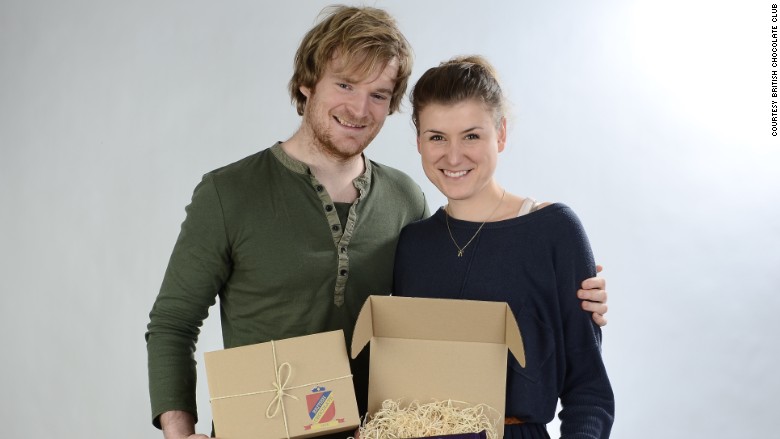 U.S. fans of British chocolate, rejoice! You can get your favorite UK treats delivered right to your door.
UK-based British Chocolate Club launched last week, selling treats that U.S. customers have been deprived of for the last few months.
An important thing to note: The recipes for British-made Cadbury and U.S.-made Cadbury are different (noticeably so, according to many fans). Hershey makes and distributes Cadbury in the U.S., so those wanting the authentic goods have bought from specialty shops (which in turn bought from Let's Buy British Imports). But Hershey sued LBB for trademark violations, so in January, LBB stopped importing British chocolates.
Robert Jeffreys and Rebecca Gerken are looking to capitalize on this hole.
Customers can join their subscription-based club for a monthly fee of $14.95 (for a box of eight chocolates) or $25.95 (fifteen bars) -- and shipping is free. Customers can choose from their favorite British chocolate bars -- including Flakes, Dairy Milk, Toffee Crisps, Yorkie Bars and Maltesers -- and can cancel at any time.
Jeffreys, who was a professional online poker player for five years, is a first-time entrepreneur.
"It is not a new business idea, but it is a bit of a new take," said Jeffreys, 30.
Jeffreys said he buys the chocolates wholesale and makes a $3 to $6 dollar profit on each box.
The startup, which is just over a week old, bought about 500 bars and has shipped roughly 20 boxes to customers.
"We are confident our business will take off," said Gerken, 26.
If the outrage generated by Hershey's suit is any indication, there's a large customer base at the ready. Over 36,000 people have signed a MoveOn.org petition to support LBB imports.
Though they didn't consult anyone before launching, the couple is not concerned about legal repercussions.
"It is the user who is importing the product, not us. And they can't go after the user as it is for personal use," said Jeffreys. "Theoretically, Hershey could get Cadbury to stop selling to us. ... In reality though, that would be impossible to enforce."
But Hershey spokesman Jeff Beckman doesn't quite see it that way.
"We own the rights to the brand in the United States," wrote Beckman in an email. "It is still in violation to sell to consumers in the United States."