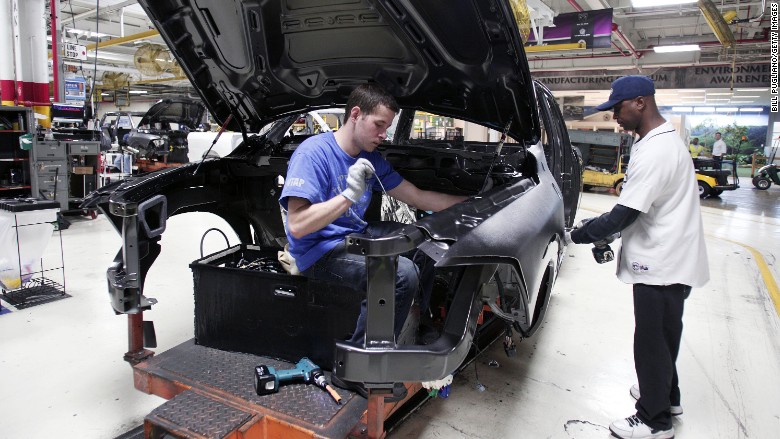 Union membership still pays...at least in terms of higher wages.
The typical union worker made $970 a week in 2014, compared to $763 for non-union workers, according to the latest Bureau of Labor Statistics data.
That 27% spread has remained relatively constant at least since 2000, when the agency started tracking the data.
To be sure, not everyone wants to be stuck in a union contract, which dictates many work rules in addition to pay. Some prefer to bargain individually for their wage and annual raises.
Still, union workers continue to command a substantial wage premium in their fields, said Lance Compa, senior lecturer at Cornell's ILR School, which focuses on labor relations. Unionized registered nurses make an average of $75,000 a year, while their non-union peers make $60,000, for instance.
Bus drivers for Facebook, who voted to join a union in November, are among the latest to see a collective bargaining boost. They approved their first contract Saturday, which would increase their wages by an average of $5 an hour, according to a union official.
Under the new contract, base wages would increase to between $21 and $25, compared to an average of $17.93 previously.
"You are better off in a union job because there you get to bargain for better wages," said Sylvia Allegretto, co-director of the Center on Wage and Employment Dynamics at the University of California, Berkeley
Related: Facebook's bus drivers set for raises after union vote
Union workers also usually enjoy better benefits, including health insurance and retirement accounts.
Being a union member, however, doesn't mean your pay will increase at a faster rate. The wages of both groups have increased only 2.1% since 2000.
Also, bowing to corporate pressure, some unions are now negotiating tiered wage scales so that new employees are paid less than their experienced brethren.
It's hard for unions to escape the wage squeeze that many American workers are facing. They must still contend with the same issues, including global competition and automation.
Joining a union is becoming tougher too as their ranks dwindle. Union membership dropped to 11.1% last year, down from 18.8% three decades ago.
Membership among government workers was 35.7% and has remained fairly stable since 1984. But in the private sector, the union ranks have thinned to 6.6%, down from 15.5% three decades ago.
Do you rely on tips as part of your compensation? Have you noticed a change in tipping habits? Would you prefer a regular salary? Share your story.