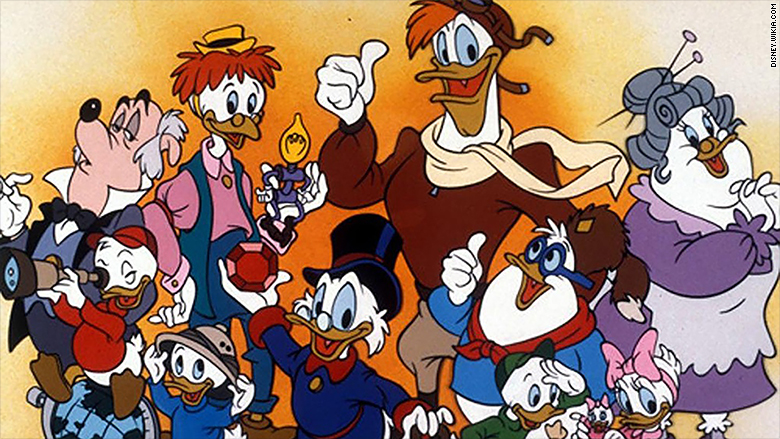 "DuckTales" (oooh oooh!) is coming back to TV.
Disney Channel announced on Wednesday that the beloved late 1980s animated series will be returning to TV in 2017 with all new adventures on its teen-orientated channel, Disney XD.
Produced by Disney Television Animation, the new series will bring back fan favorite Scrooge McDuck along with his grandnephews Huey, Dewey, and Louie as they travel around Duckburg solving mysteries and rewriting history.
"DuckTales' has a special place in Disney's TV animation history," Marc Buhaj, Disney XD's senior vice president of programming said in a statement. "Our new series will bring that same energy and adventurous spirit to a new generation."
For kids that grew up in the late 1980s eighties and early 1990s, "DuckTales" was a popular cornerstone of Disney's syndicated daily cartoon lineup.
The Emmy Award-winning series, which ran from 1987-1990, produced 100 episodes.
The series also hatched a 1990 feature film, "DuckTales the Movie: Treasure of the Lost Lamp," an Indiana Jones-esque adventure starring the ducks.
Fans of the series will also be happy to hear that characters like Duckworth, the Beagle Boys, and Launchpad McQuack will also be apart of the new series.
The animated show was based off of the Uncle Scrooge comics by artist Carl Barks.
"['DuckTales'] drew its inspiration from Disney legend Carl Barks' comic books, and through its storytelling and artistic showmanship, set an enduring standard for animated entertainment that connects with both kids and adults," Buhaj added in a statement.
The original "DuckTales" episodes are currently available on the WATCH Disney Channel mobile app.