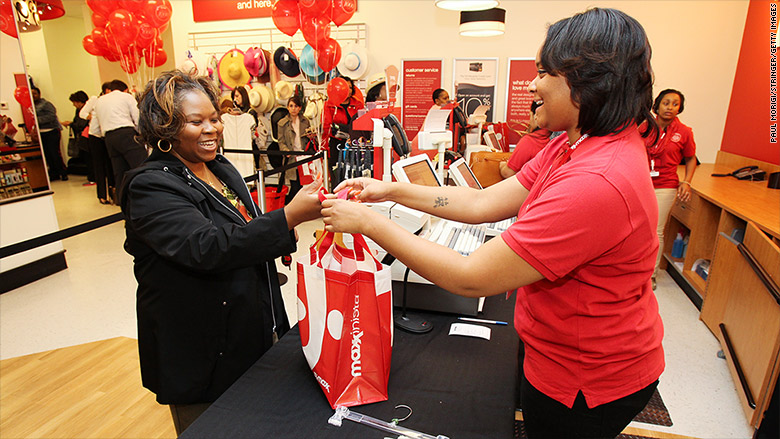 The owner of T.J. Maxx, Marshall's and Home Goods is raising wages for its workers to at least $10 an hour sometime next year.
The company, TJX Companies (TJX), will first raise the wages of workers to $9 an hour in June of this year. Then, at some point next year, workers who have been with the company at least six months will get bumped up to $10 an hour.
The raises essentially match Wal-Mart's plans to hike wages, which was announced last week. Wal-Mart Stores (WMT) is the nation's largest private-sector employer, with more than 1.3 million U.S. workers. The move by TJX is a sign that other retailers could be forced to raise their wages to stay competitive with Wal-Mart, especially in an improving job market.
Related: 24 hours with a minimum wage worker
The federal minimum wage is only $7.25 an hour. President Obama has proposed raising the minimum wage to $10.10 an hour, but so far that move has been blocked by Republicans in Congress. But many states have raised their own state minimum wage rates. The National Retail Federation is one of the groups actively arguing against a minimum wage hike.
Related: 15 million U.S. workers make less than $10 an hour
TJX Companies has about 2,600 U.S. stores and about 191,000 employees, although the that count includes workers at stores outside the United States.
Correction: An earlier version of this story incorrectly stated that TJX wages would be hiked to $10 an hour by 2016. The raises will be made during 2016.