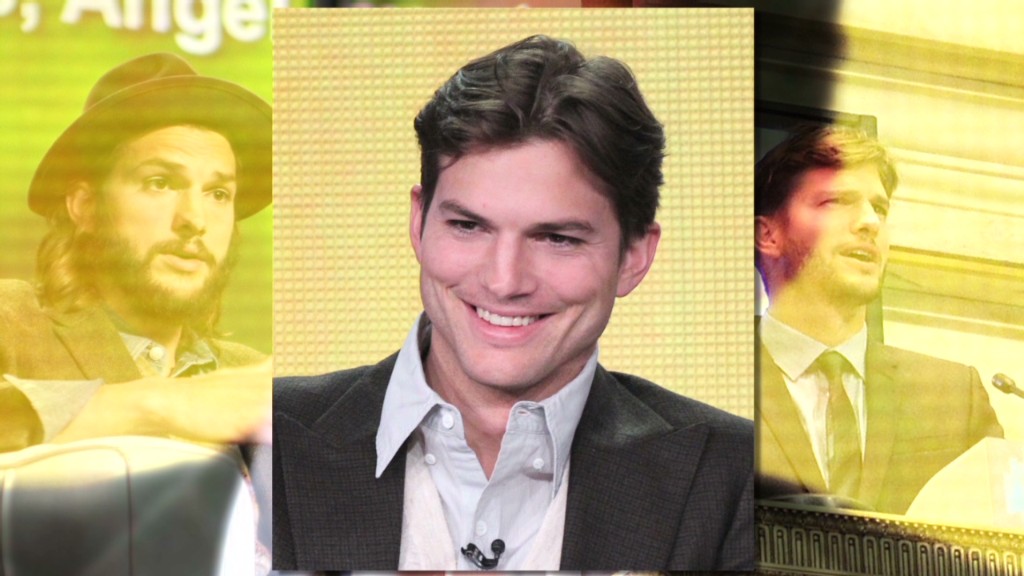 Ashton Kutcher's new media company A+ is off to a start that, well, suits its name.
On the surface A+ is a website that publishes feel-good content. Some of the upbeat, quirky headlines read like those on Upworthy — "They Expected To Rescue 1 Dog, But A Few Days Later There Were 10 More" and "You'll Never See The World In The Same Way After Watching This."
At its core A+ is a publishing platform that its founders hope will be used by writers, marketers, and celebrities who want to make viral content. In exchange for viral stories, A+ will pay some of its contributors a share of the ad revenue generated from their posts.
A+ was co-founded by Kutcher and two software developers, Kendall Dabaghi and Evan Beard.
"We situate ourselves as the new social publisher," Dabaghi told CNNMoney.
Already, A+ has attracted an impressive audience with very little promotion.
The site's monthly traffic has ranged from 12 to 19 million unique visitors since its soft launch last year, according to estimates from comScore, an independent web analytics firm. This is about the same amount traffic Upworthy currently sees. Buzzfeed, for comparison, generates 60 to 78 million unique visitors per month, comScore says, and the millennial-focused site Elite Daily gets about 12 to 33 million monthly unique hits.
Anyone can create a post on A+. The one caveat is that stories must follow the site's editorial guideline. That is, articles must inspire positive social and personal change, according to Dabaghi.
Once a post is published, authors can test up to five different headlines and five different header images, and the A+ content management system will predict which combination will drive the most traffic. For example, I created a dummy post on the site, and 0.11% of people shown the headline "Ashton Kutcher's new BuzzFeed-like website" clicked on the story.
That might not seem like much, but A+ tells me the other options I put in, "Ashton Kutcher's new BuzzFeed-like website" and "Ashton Kutcher launches a Buzzfeed-like media company" only motivated 0.04% of a test audience to click. To be fair, the image I used — a screenshot of the A+ site — was dull, and my actual story was completely unrelated to the headline.
Related: Ashton Kutcher tweets about 'shady' journalism
A+ is also recruiting celebrities to join the site as content curators to help stories go viral. Stars will get their own A+ page, where they can republish posts from the site and get paid a percentage of the ad revenue they generate. (No celebrities have signed on to the site yet, but the company expects to announce some names soon.)
Authors get paid if a celebrity republishes their story, or if their story is selected for the front page. Compensation ranges from a minimum of $150 to $500, depending on how much traffic a post attracts, according to Dabaghi. "Our belief is that these people deserve to be compensated for creating great content," he said.
The idea of paying people for what they share online isn't new. It's how YouTube works, and that's why there are so many Vine, Snapchat, and Instagram stars.
Over the last few years, a few other startups have been focused on this business model too. Bubblews and Persona Paper are two examples. Tsu is another.
Tsu's founder and CEO Sebastian Sobczak told CNNMoney the site has close to 3 million registered users and has paid hundreds of thousands of dollars to its members since launching last year.
The invite-only social network pays its members about 50% of the advertising revenue generated from their posts. "I commend anyone going in this direction," Sobczak said. "It rewards the people doing the work."
Unlike A+, Tsu and other startups pay everyone a share of the ad revenue generated from their stories. A+ believes its model of only paying for select stories encourages content that aligns with its editorial vision.
A+ is based in New York. The 20-person startup is the only operating company Kutcher has co-founded. He's also an active investor in tech startups through his venture capital firm, A-Grade Investments.