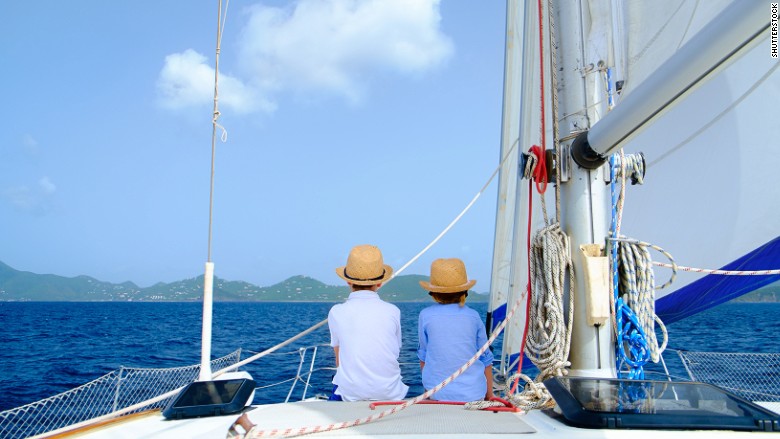 Get used to hearing babies crying in First Class or seeing toddlers at the check-in desk at high-end hotels.
From perks like organic baby food and child-sized bathrobes to larger hotel suites and more kid-focused activities, the luxury travel market is catering to much younger travelers.
In the past year, the St. Regis has seen a 20% increase in families staying at its properties.
Older parents with more money are helping to fuel the trend, said Paul James, global brand leader for the St. Regis, The Luxury Collection, and W Hotels.
"We are seeing people in their 40s with young children," James said. "By the time you are 40 and made money, you don't want to stay at the cheap motel down the road. You don't compromise your lifestyle."
He added that seeing kids at the front of a plane is becoming more common. "I flew back in January, and everyone in the business cabin had a child with them."
As more travelers bring their families along, experts said demand for larger suites and villas at hotels has increased. For instance, at the St. Regis in Bali, villa suites sell out 10 times faster than the main hotel suites, James said.
Related: Bored of your superyacht? Try a submarine
Luxury hotels are also stepping up their child-focused amenities and activities.
"Parents want to go and have adult experiences, but also want to make sure their kids will be catered to," said Kara Slater, a travel agent with SmartFlyer California who specializes in family travel.
At the Four Seasons Resort in Orlando, children are normally welcomed with chocolate alligators or organic baby food and receive child-size bathrobes.
Guests ages 4-12 at The Resort at Pelican Hill in California can attend Camp Pelican where each day's supervised activities have a different theme like Treasure Island Tuesdays or Space Exploration Fridays. The clubhouse has digital microscopes, video games and computer stations. A full day at the club runs $90 and $60 for a half day.
Parents looking for some alone time in the evening can send their travel companions to Kid's Night Out, which includes dinner, movie and popcorn for $60.
Latitude, a program for teens, runs $15 an hour ($50 for a half day) has daily activities including surf and kayak camp. And the lounge has Netflix-connected TVs, video games and a special food menu.
The resort also offers a three-hour Children's Resort Etiquette Class for guests ages 7-12 that teaches travel and social etiquette.
The room service menu includes "ants on a log" (celery with peanut butter and raisins on top) and veggies and hummus, according to Kate Starr, spokeswoman for the resort.
Related: The river cruise craze goes high-end
Families aren't just heading to the traditionally kid-friendly spots, but are seeking out more exotic locations. Hawaii and Europe are popular, according to Slater.
Authentic experiences are also a priority for people traveling with kids, said Dan Austin, president of Austin Adventures.
"We see families often start out with a domestic vacation, like Yellowstone, and the next year they head to Alaska or the Canadian Rockies. By the third trip, they are looking at Peru, Belize and Costa Rica."