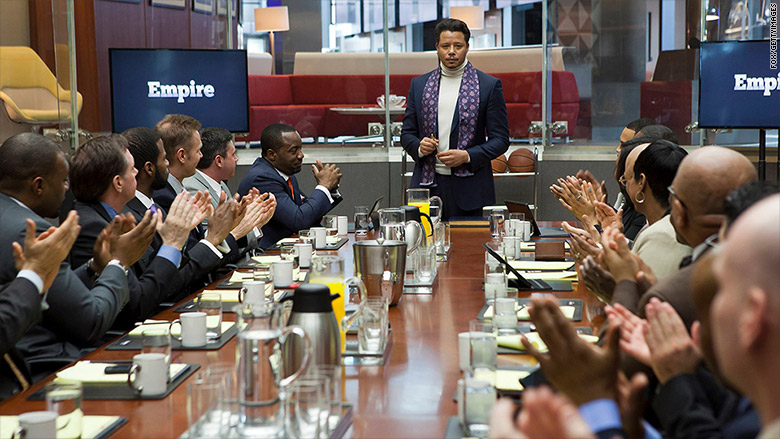 The "Empire" streak continues... for now.
Fox's smash hit drama somehow grew again on Wednesday night, with 13.9 million total viewers and a 5.4 rating among 18- to 49-year-olds.
Each week's episode of "Empire" has been higher-rated than the one before it, an astonishing feat in the broadcast television business. Fox and its rivals can hardly believe it.
Wednesday's episode was No. 7. The show premiered in early January to 9.9 million viewers (who watched either live or on the same night; many millions more watched on-demand).
Fox executive Gaude Paez Morose tweeted that Wednesday's "Empire" rating "is the highest of any regular broadcast drama since 'Grey's Anatomy' in Sept 2010."
Now the question becomes this: can "Empire" maintain its ratings growth until its two-hour season finale on March 18?
While most signs point towards "Empire" keeping the momentum going, there is one thing that could stand in way of the series' ratings run: Daylight Savings Time.
Related: Fox's 'Empire' defies TV trends, ratings rise again
Prime time ratings usually a dip due to the time change -- because some people who'd be home watching TV tend to stay out during the longer daylight hours.
In 2012, the first Monday after Daylight Savings saw 6.8% fewer adults ages 18 to 49 watching TV during the 8 p.m. hour compared to the Monday prior, according to ratings site TV By The Numbers.
As for the 9 p.m. hour, the time slot that "Empire" is in, 2.4% fewer adults tuned in.
So time change could have an impact; then again, "Empire" is clearly appointment viewing for a big swath of the country.
With this year's Daylight Savings Time set for March 8, only time will tell for Fox and "Empire."