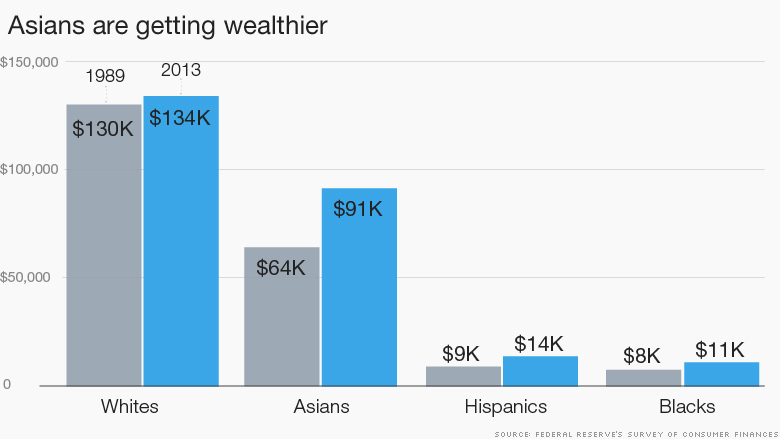 Asians are on their way to toppling whites as the wealthiest group in America.
Asians have had higher median incomes than their white counterparts, according to a new study by the Federal Reserve Bank of St. Louis. The typical Asian family has brought home more money for most of the past two decades.
That fact, coupled with younger Asians' higher rates of college education, means that they will surpass whites in net worth in the next decade or two, Fed researchers said.
Some 65% of Asians age 35 to 39 have a college degree, compared to 42% of whites, 26% of blacks and 16% of Hispanics. Nearly a third of Asians that age have a graduate degree, more than twice that of whites. The share of blacks and Hispanics with advanced degrees are 9% and 5% respectively.
Greater educational attainment has long been associated with higher incomes and wealth accumulation.
This pursuit of learning has helped Asians quickly narrow the wealth gap between themselves and whites. In 1989, the median Asian family had about half the net worth of its white peer. By 2013, they had more than two-thirds.
The gap between whites and blacks and Hispanics, meanwhile, remained little changed over that time period.
Asians have similar financial habits to whites, in terms of investing and borrowing. Both groups are more likely than blacks and Hispanics to invest in stocks and privately-owned businesses and to have more liquid assets, which serves as a buffer against financial shocks. And, on average, the former have about half as much debt as the later.
As a result, Asians and whites have more financial stability than blacks and Hispanics, which also allows the former to build more wealth.