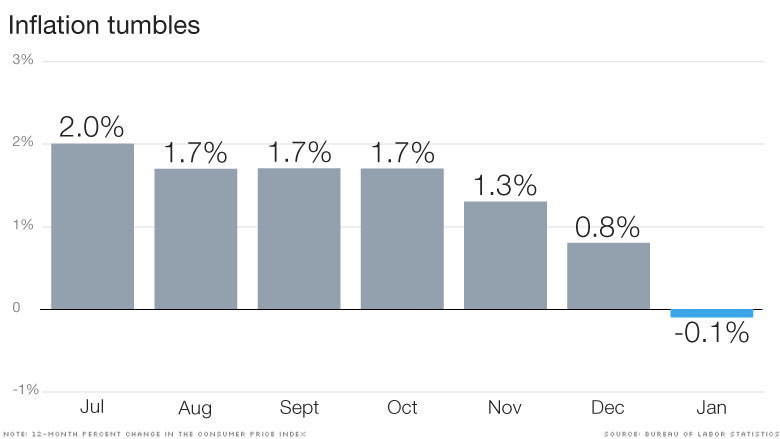 America experienced something in January it hasn't seen in years: deflation.
Prices for goods actually declined -0.1% in January from a year ago, according to the Labor Department. That means it actually cost less to buy things in America this year than it did in January 2014.
It's the first time since October 2009 that the U.S. economy experienced annual deflation. But economists say don't hit the panic button yet: the economy is still improving overall.
"There is little danger that this temporary bout of falling energy prices will develop into a more insidious debt-deflation spiral," says Paul Ashworth, chief U.S. economist at Capital Economics.
The main driver of falling prices is cheap gas. A year ago, a gallon of gas was about $3.40. Last month a gallon cost around $2.15 on average. Prices have since stabilized with some saying gas is likely to rise from here.
Related: The story behind oil's plunge
At the moment, inflation is the only major yardstick of the economy going in the wrong direction. A strong and growing U.S. economy typically has inflation of around 2% a year, so a negative number is far from the mark. January was the third straight month of price declines.
If gas prices rebound more, then the total inflation figure should start heading up again. While most Americans pay attention to the prices of food and energy, economists also look at so-called core inflation that excludes those two items. Core inflation actually rose 1.6% from a year ago, another sign that gas is the key swing factor.
January's deflation could cause the Federal Reserve to hesitate on raising interest rates, which many expect them to do later this year. Federal Reserve Chair Janet Yellen and her fellow board members do not want to raise interest rates until the economy shows real momentum.
Overall, the U.S. economy has many signs of improvement. The unemployment rate is dropping, growth is picking up and hiring has been strong. But many Americans haven't seen any real improvement in their paychecks in years.
Related: Janet Yellen: Too many Americans aren't making it
When Yellen testified before Congress this week, she was pummeled with questions about the lack wage growth and why Main Street isn't feeling the recovery.
Since wages are staying flat, consumers have been thankful for low gas prices, but don't expect it to last for long. Most economists believe the cheap gas and deflation will be short-lived.
"Bottom line, talk of deflation is complete nonsense as this inflation gauge is being almost fully driven lower by energy prices," says Peter Boockvar, chief market analyst at the Lindsey Group in Fairfax, Va.