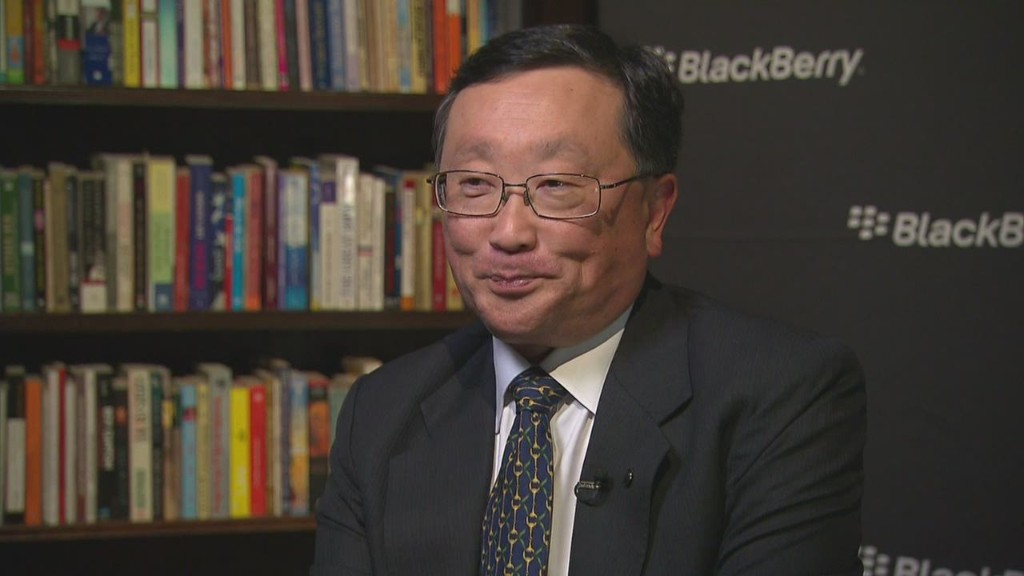 The next time you use BlackBerry, it might be on your iPhone.
BlackBerry (BBRY) announced plans to make its latest software offerings available on iOS, Android and Windows phones and tablets.
The software will include communication, security, and workplace tools, allowing users to edit documents, share calendars, hold secure video conferences and protect themselves from identity theft, among other things.
The move continues BlackBerry's pivot away from the smartphone hardware market. BlackBerry's devices have been losing market share for years and now account for a small fraction of smartphones sold.
Instead, CEO John Chen has been focusing on a new plan: selling the company's enterprise software for use on all mobile devices, including those sold by one-time competitors like Apple (AAPL).
Under Chen's leadership, only 46% of the company's revenue comes from hardware sales, and the rest comes from software, services and other sources, according to its most recent earnings filings.
Sunday's announcement at the Mobile World Congress represents a "major company-wide initiative in BlackBerry's commitment to build out its robust software portfolio," the company said in a statement. The software will be customized for each type of device and will be released later this year.
"Our goal is to be wherever our users need and want us, with our software suites, whether that's on an iPhone or a BlackBerry Classic," Chen said in the statement.
The BlackBerry Classic, complete with the company's traditional QWERTY keyboard, was released in late 2014.
Related: Kim Kardashian hoards BlackBerrys
BlackBerry also announced it would combine some of its security software with tools designed by Samsung (SSNLF).
The new tools are aimed at users who would have carried two phones to keep their business and personal lives distinct. They will incorporate government-grade security and put up a wall to separate personal and work content.
BlackBerry and Samsung have denied recent reports that they are considering a merger.