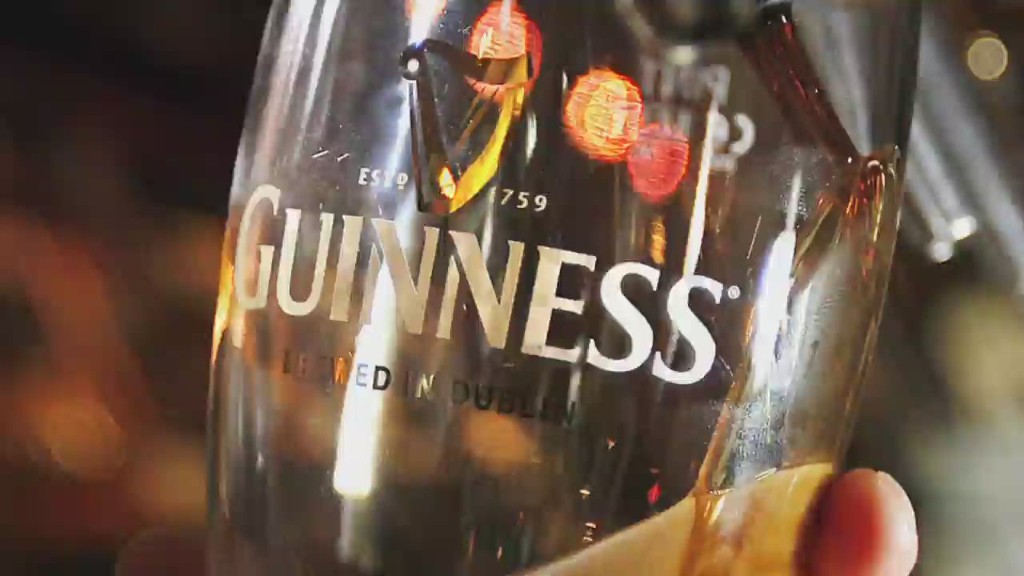 Guinness will resume its sponsorship of New York City's St. Patrick's Day Parade, a year after it pulled out because lesbian and gay groups weren't allowed to march in the parade.
The brewer is returning to the parade because the LGBT affinity group Out@NBC-Universal will be allowed to march in the parade under its own banner. NBC is the network airing the parade.
Still, some gay rights groups say that doesn't go far enough.
"Until all are welcome -- especially LGBT Irish groups, who have worked for decades to bring fairness to Fifth Avenue -- parade organizers must be held accountable to ending this ban once and for all," the LGBT rights group GLAAD said in a statement issued Monday.
But Guinness owner Diageo (DEO) says the move is enough for the beer brand to return to sponsoring the March 17 parade.
"While there is still work to be done, we are pleased that the parade organizers have taken steps to allow the LGBT community to be represented," said Diageo in a statement. "The parade is an important way for Guinness to support the Irish community, and we look forward to celebrating with millions of New Yorkers."
A Diageo spokeswoman said the company had no comment about the fact that other groups are still protesting the parade's policies.
Related: Brands that love LGBT the most
GLAAD had considered organizing a boycott of Guinness last year, before the brewer announced it would drop its parade sponsorship.
But the group has no plans for a boycott this year said Seth Adam, the group's communications director.
An official with Irish Queers, which has pushed to open up the parade to gay groups, said it is disappointed but not surprised by Guinness' decision to resume it's sponsorship.
"They weren't that committed to the issue in the first place, and they took the first opportunity to get back with the parade," said Emmaia Gelman of the group.
Brewers Heineken U.S.A. and Sam Adams also withdrew their sponsorships for the parade last year. A spokesman for Heineken said it hasn't yet decided whether it will sponsor the parade. A spokesperson for Sam Adams (BOSTON BEER), which sponsored the parade in Boston, was not available for comment early Monday. Parade organizers also did not respond to a request for comment.