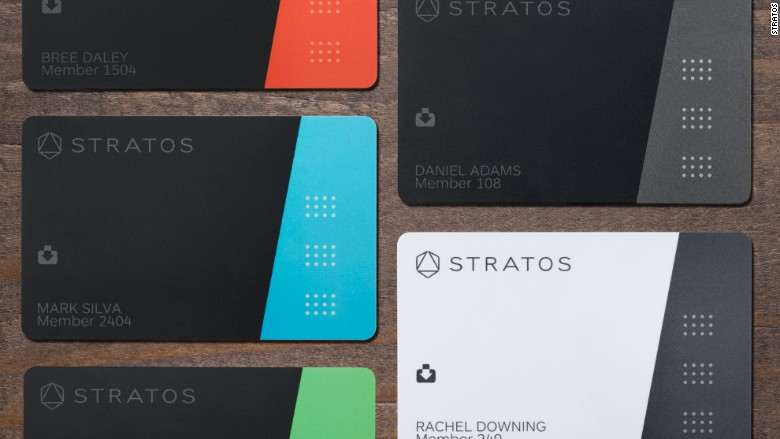 Stratos wants to make your credit cards, debit cards, loyalty cards, and gift cards obsolete.
It's yet another electronic "smart" card that promises to simplify our lives by slimming down our wallets and securing our personal information.
How it works: All of your current credit card information is stored in a corresponding mobile app and transmitted to your Stratos Card when you go to pay. When you receive the card in the mail, it comes with a card reader that plugs into a phone's headphone jack. Swiping a traditional credit card, debit card or gift card through the reader will load that card's information in the app.
There's no limit to the number of cards that can be saved to the app, but the Stratos Card holds only three cards for quick access. (Stratos CEO and co-founder Thiago Olson told CNNMoney that most people only use three cards 95% of the time.) Three touch-sensors on the front of the card correspond to each quick access card, allowing you to choose which one you want to use with a few taps.
If you're not using one of those three cards, Stratos requires a Bluetooth connection to your smartphone.
Design: The Stratos Card looks like a traditional credit card, but it is as thin and light as a business card. It also has a slick and clean design.
Printed on the front is the logo, owner's name and the number of the Stratos Card (not your actual credit card number). The three touch-sensors are placed near the right edge.
On the back, magnetic stripes run across the top, just like a regular credit card. There's a signature stripe on the back as well.
Security: The Stratos Card uses bank-level encryption, and for added security it generates a new, unique credit card "token" number each time it's used. When your bank receives and decrypts that "token," it then charges your card -- the retailer never sees your actual credit card number.
"If for example, Target gets breached, your account number is already changing," Olson said.
The first version of the Stratos Card does not have a chip, and is not compatible with contactless NFC card readers, but the company says it's working on adding both features to future models.
Because the card is tethered to a smartphone via Bluetooth, users can receive alerts in case they leave the card behind somewhere or lose it. But if you're not clear if your Stratos card is stolen or lost -- Olson still recommends canceling the three cards that are loaded on the card.
Like its competitors, Plastc and Coin, Stratos lets you shut off your card as well. But Stratos notes that it is the only one of its rivals that doesn't display your card information on the front (Plastc and Coin have screens on the front, unlike Stratos). That makes Stratos potentially safer to use, since your card number won't be given away if it's stolen.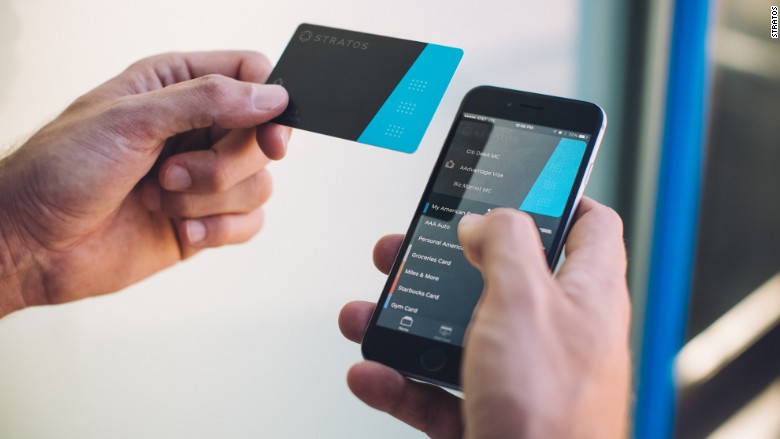 Cost: $95 per year, or $145 for a two-year upfront membership. Stratos says this fee covers the cost of manufacturing, plus the cloud storage and security of the card, which is monitored by the company.
The Stratos Card is available for pre-order now, and begins shipping in April.
Cons: The cost. If you already pay yearly membership fees for other credit cards, this could be a deal-breaker.
For online purchases, you still have to enter your regular credit card number. Stratos only works at physical, brick-and-mortar shops.
Bottom line: It's a potentially good option for those who can afford and want the convenience of consolidating their wallets into one device. Just remember: it's another company and another app that will have access to your personal financial information.