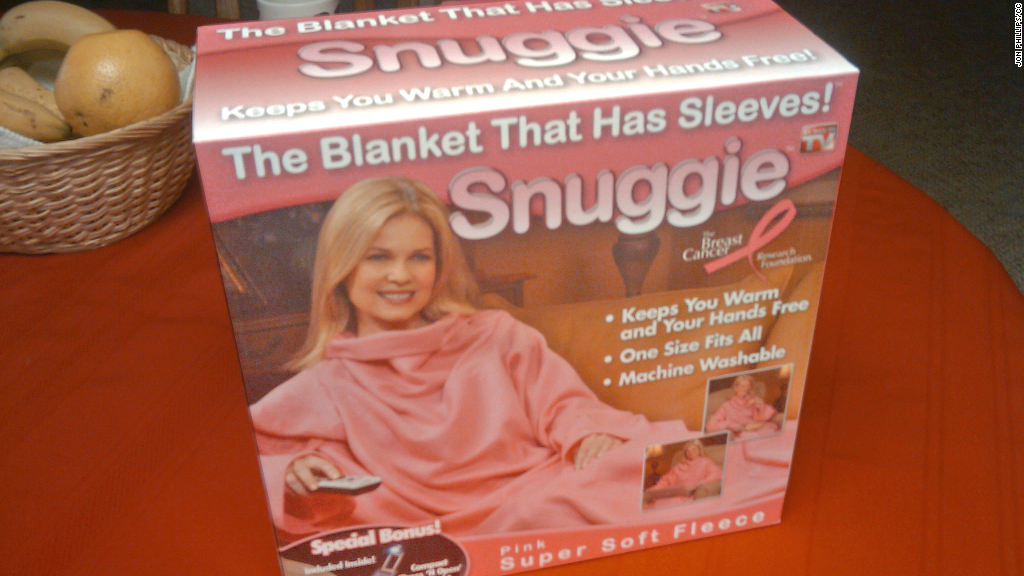 Did that infomercial sound too good to be true? If it was about a Snuggie, it may very well have been.
The seller of the Snuggie blanket and other as-seen-on-TV products, like the Perfect Brownie Pan and the Perfect Bacon Bowl, is paying $8 million to settle claims by New York's Attorney General that it mislead and overcharged customers.
The company, Allstar, allegedly lured customers with TV commercials that promoted a "Buy one, get one" offer, but did not disclose that they would be charged two separate processing and handling fees, according to an investigation by the Attorney General. In some cases, the fees would nearly double the cost of the offer.
Related: The hottest gadgets at the Mobile World Congress
Allstar also allegedly set up an intentionally confusing ordering process that would include numerous up-sell offers. It didn't always give customers a chance to amend or review their order before it was processed.
The Attorney General began investigating the company after receiving hundreds of consumer complaints.
One customer who tried to buy two Perfect Brownie Pans unknowingly purchased six and was charged $105. Although he complained that he was subjected to an intentionally misleading automated telephone script and only meant to buy two pans, the customer was not able to get a full refund.
Allstar agreed to a settlement with the Attorney General's Office and the Federal Trade Commission, which requires it to stop using any deceptive or misleading advertising.
It will pay $8 million, most of which will be distributed to wronged consumers. About $500,000 will go to the Attorney General's office as a penalty.
In a statement, Allstar's attorney said that while the company always believed it was complying with the law, it is proud to have resolved the matter and improve its own practices.