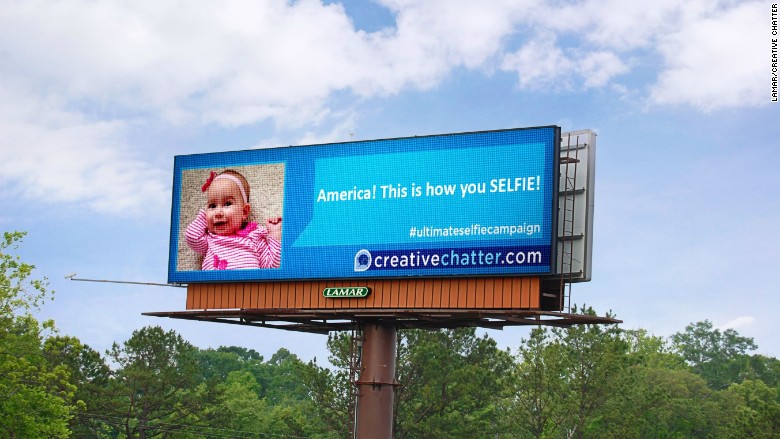 Want millions of people to like that bathroom selfie? Put it on a billboard.
Creative Chatter Communities, a nonprofit that connects charities with donors, has partnered with outdoor advertising company Lamar (LAMR) on a new project that lets you do just that -- well, after your photo has been screened first.
By donating $25 to the Ultimate Selfie Campaign, you can upload a picture and message to the creativechatter.com site. Approved photos and text will be displayed on digital billboards across the country in more than 45 major cities, including Phoenix, Dallas, St. Louis, Chicago, and Washington.
Messages will be shown in rotation with other ads for a week. An average of 11 million people would see your picture, according to Creative Chatter. The nonprofit also publishes the pictures on its Facebook (FB) page, meaning even more eyeballs.
Submissions that express gratitude, love, and birthday wishes for family and friends seem to be the most popular so far. Although there is that one guy who submitted a photo with the text "My Big Head Makes This Board Look Good!!!"
"We got a lot of comments on that one," Creative Chatter's founder and CEO Clay Braswell told CNNMoney. "He's real."
Others are using it like a traditional billboard -- for promotion.
"Don't Forget to Smile!" says one from Bocklet Orthodontics.
"We're trying to encourage people not to do an advertisement," Braswell said, noting that messages with phone numbers or personal information aren't allowed.
But still, it's hard to deny that this is also a great way for Lamar to show people how easy it is to buy a digital billboard.
Allie McAlpin, a spokeswoman for Lamar, agrees the project is mutually beneficial.
"But more importantly, it's an opportunity for us to give back and support the great work that Creative Chatter is doing for nonprofit organizations," McAlpin said.
The Ultimate Selfie Campaign ends April 2. Just in time for prom season and prom-posals.
See, all the time you spent taking that perfect selfie wasn't a waste after all.