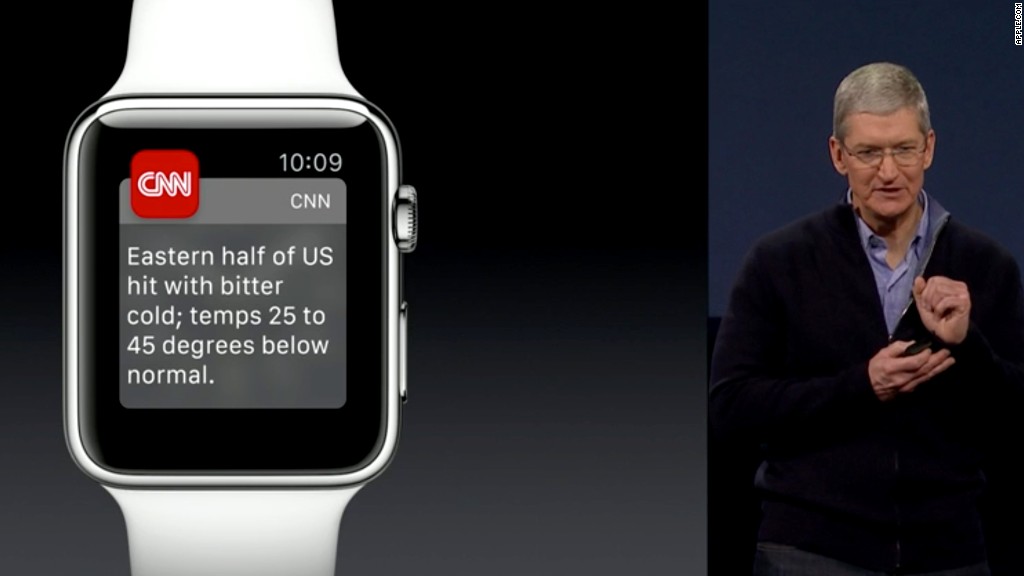 This is a big moment for Apple. The Apple Watch is the company's first new gadget in five years -- and its first since Steve Jobs died.
Sure, its founder's DNA is engrained in the company's design approach. But truthfully, Apple (AAPL) didn't start developing its smartwatch until Jobs was already gone.
The pressure is on for Tim Cook right now.
He's done an incredible job selling what the company already has. Apple posted the biggest profit in corporate history last quarter. Investors value the company at a stratospheric $700 billion. And the company has $178 billion in cash -- more than the market value of any of these major companies: Disney (DIS), IBM (IBM), Amazon (AMZN) and Netflix (NFLX).
But Apple relies heavily on a single product -- the iPhone -- for 69% of its revenue. Its other gadget, the iPad, has had a slump in sales.
The burning questions now are: Will the Apple Watch be as revolutionary as the iPod or iPhone? Will it notch enough sales to make it the next new blockbuster product?
There are a few things to consider.
First, Apple isn't really in the business of releasing radically new products. Instead, its approach is to perfect an already existing idea with high design.
Consider the revolutionary iPod, which was introduced in 2001 with its sleek and simple click wheel. It was just a better portable MP3 player, which first made its first appearance in 1997. But those early designs were either bulky or had lots of buttons.
The iPhone appeared in 2007. But it certainly wasn't the first smartphone. That distinction would go to the 1994 IBM Simon or the 2002 Palm Treo. But even though the iPhone ran on a slow 2G cellular network and it didn't have an App Store, it still captivated us.
So, it's not surprising that the Apple Watch isn't a first either. But it needs to get the concept of a smartwatch right in a way that the Pebble and the Moto 360 haven't. People are having a hard time justifying an expensive device that's just another screen.
On stage Monday, Cook called it "the most personal device we have ever created."
The Apple Watch reads your heartbeat and steps. If it does biometrics right, it could become a useful health tracking tool. It also uses Apple Pay's technology so you can make purchases at checkout with a tap of your wrist.
But it's mostly useless without an iPhone nearby. And it's hard to justify spending $349 on a device that could be obsolete two years from now. That's particularly true for the high-end, 18-karat gold-encased version of the Apple Watch, which will start at $10,000.
It's now up to app developers. They could make this more useful than it seems right now. Or the device could flop.
In which case we will still have a giant, beloved company that's worth more than the GDP of 170 countries. And that includes Switzerland.