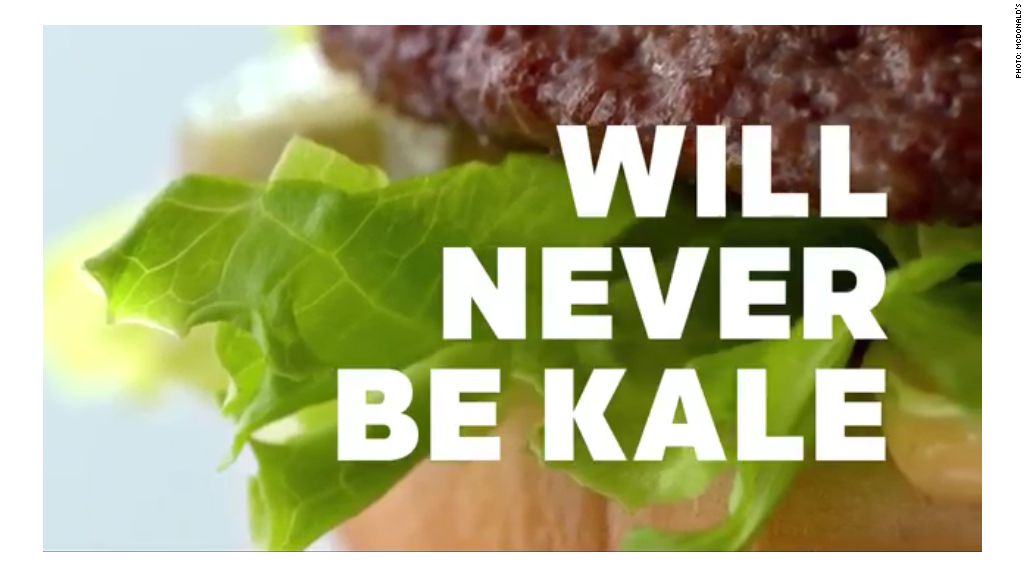 Looking for some kale in that Shamrock Shake from McDonald's?
It's not going to happen in time for St. Patrick's Day next week. But maybe in 2016? That's what one Wall Street firm is suggesting.
Janney Capital Markets restaurant analysts wrote in a report Monday that "one of our industry sources indicates that McDonald's U.S. plans to roll out kale as an ingredient in its restaurants at some point in the not-too-distant future."
One of the analysts, Mark Kalinowski, added that McDonald's (MCD) could use kale in salads or possibly a smoothie.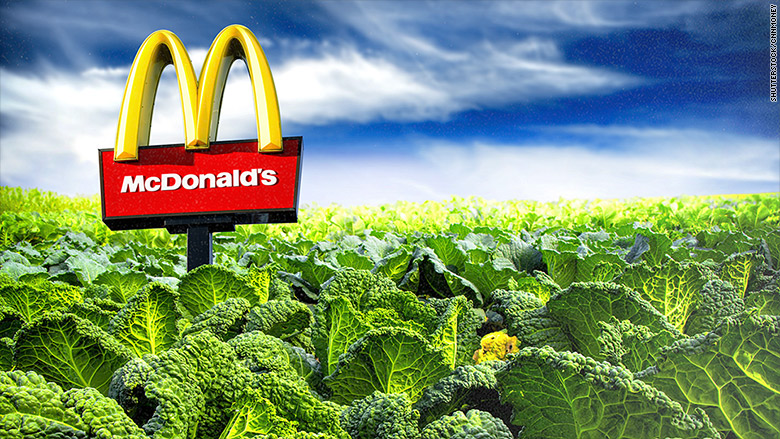 "McDonald's clearly aims to raise consumers' perception of the quality of its food. Adding kale to the menu in some way could help be a step in this direction," he wrote.
So is McDonald's really getting ready to put the hipster vegetable of choice (McKale chips, anyone?) alongside its hamburgers and fries?
A spokesperson for the company said that "as we continue to listen to our customers, we're always looking at new and different ingredients that they may enjoy." In other words, McDonald's neither confirmed nor denied the kale report.
Related: McDonald's CEO Don Thompson retires as sales suffer
But in a commercial for the Big Mac that debuted in January, McDonald's featured the words "Will Never Be Kale" in a shot highlighting the iceberg lettuce on its most famous burger.
Still, that ad ran before new CEO Steve Easterbrook took over the company earlier this month.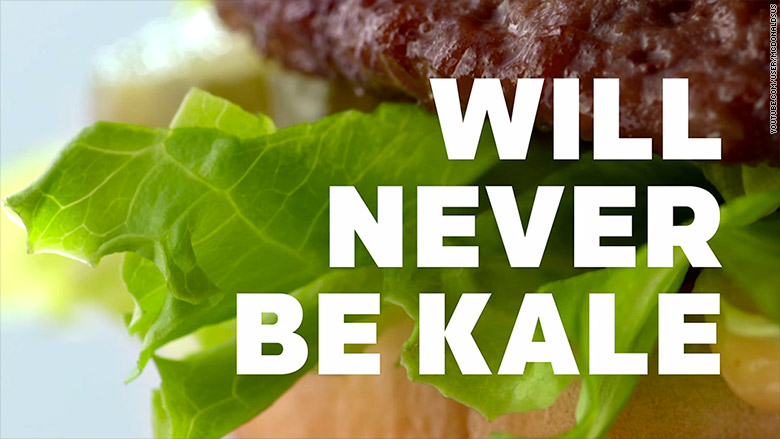 McDonald's definitely needs all the new customers it can get. It just reported on Monday that same-store sales in the U.S. were down 4% in February and 1.7% worldwide.
Global same-store sales were down in January too. And they fell 1% in 2014.
The company has acknowledged that it must adapt ... now.
Related: McDonald's brings back Chicken Selects
In Monday's sales release, McDonald's noted that "consumer needs and preferences have changed, and McDonald's current performance reflects the urgent need to evolve with today's consumers."
The Easterbrook era is already off to a promising start from that standpoint.
Last week, McDonald's announced that the chickens it uses for its food would only be on antibiotics for legitimate health reasons only. McDonald's will also begin to offer low-fat white milk and fat-free chocolate milk that come from cows not treated with the artificial growth hormone rbST.
Related: McDonald's to cut back on chicken raised on antibiotics
McDonald's added in its February sales release that it must reassert itself "as a modern, progressive burger company."
That sounds like McDonald's recognizes the growing threat from so-called "better burger" companies.
The toughest competition isn't so much the established fast food giants Burger King (QSR), Wendy's (WEN) and the KFC/Taco Bell/Pizza Hut juggernaut Yum (YUM) anymore. It's companies like Habit (HABT) and Shake Shack (SHAK) -- two gourmet burger joints that recently went public and made splashy debuts.
McDonald's also faces a big challenge from companies that are defining the "fast casual" dining revolution, such as Panera (PNRA) and Chipotle (CMG) ... which McDonald's actually spun off in 2006.
So whether it's kale, spelt or that new Sriracha-flavored ketchup from Heinz, it's clear that McDonald's needs to add more new menu items to get sales back on the right track.
The stock has pretty much done nothing over the past three years. And it has lagged the S&P 500 pretty badly since the market bottomed in 2009. Wall Street's patience is definitely McLimited.