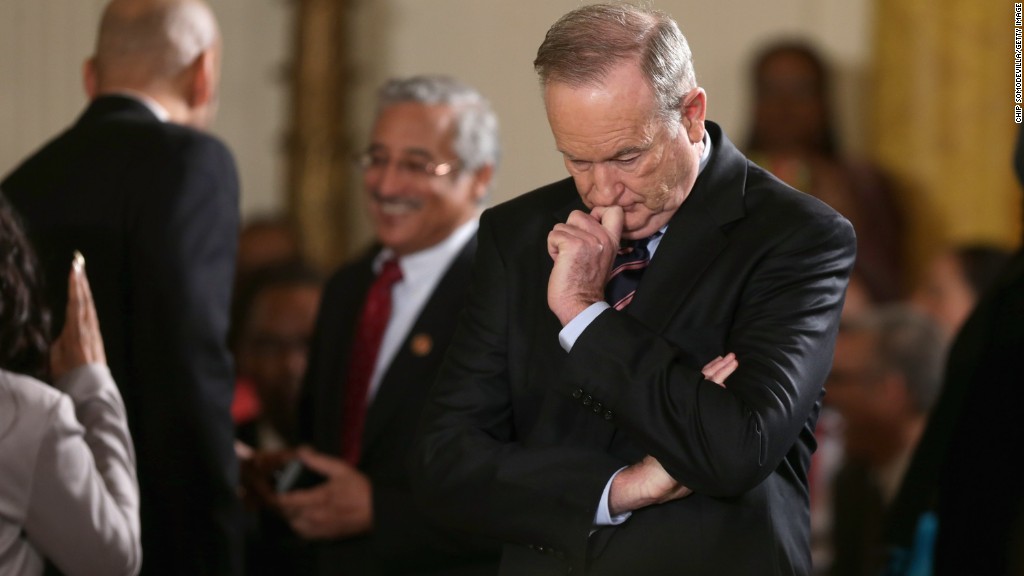 Bill O'Reilly finally addressed the dispute over an account he's told about investigating the John F. Kennedy assassination, hours after yet another journalist called the Fox News host's story into question.
On Monday afternoon, Newsweek published an article by Edward J. Epstein, a Lee Harvey Oswald biographer who, like O'Reilly, covered the JFK probe in the 1970s.
In his 2012 book "Killing Kennedy" and on Fox News, O'Reilly has said he was at the scene in 1977 when George de Mohrenschildt, a friend of Oswald's, committed suicide in Florida. O'Reilly has said that he even heard the gunshot that led to de Mohrenschildt's death.
Epstein called O'Reilly's account "impossible."
"How do I know?" Epstein wrote. "I was the actual -- and only -- reporter interviewing de Mohrenschildt on the last day of his life in 1977."
Rebuttal from O'Reilly's side: Not long after Epstein's piece was published on Monday, Henry Holt and Company, the imprint that published O'Reilly's book on the JFK assassination, posted a statement from a former colleague who backed O'Reilly.
The colleague, Bob Sirkin, worked with O'Reilly at a Dallas TV station more than 30 years ago. He said the two reporters tracked down de Mohrenschildt in Florida.
In his statement for Holt, Sirkin said he and O'Reilly arrived in West Palm Beach, Florida, early on March 29, 1977 -- the day de Mohrenschildt committed suicide.
Sirkin claimed that he and O'Reilly actually crossed paths with Epstein and de Mohrenschildt at a hotel on the morning of the suicide.
"That is where George de Mohrenschildt was being interviewed by Edward J. Epstein in an upstairs suite," Sirkin said. "So with our camera rolling, we knocked on Epstein's door. When Epstein opens the door, we clearly see de Mohrenschildt sitting in the background at a dining room table."
Following that encounter, Sirkin said he and O'Reilly parted ways, with the latter heading to Manalapan, Florida, the site of de Mohrenschildt's suicide.
Sirkin said he and O'Reilly later reconnected at the Manalapan residence where de Mohrenschildt killed himself.
"It remains preposterous for anyone to claim that O'Reilly and I were not in Florida before, during, and following de Mohrenschildt's death," Sirkin said.
Related: The O'Reilly controversies: Where they stand
O'Reilly speaks out: On Monday evening, O'Reilly briefly addressed the matter on his top-rated show "The O'Reilly Factor." He urged viewers to read Sirkin's statement.
"The far left attacks on my reporting continue," he said. "There's nothing I can do about it."
For much of the last month, O'Reilly has faced questions over claims he's made about his past reporting exploits.
When doubts were raised about O'Reilly's JFK story last month, Henry Holt defended his "terrific book" and said "we have no plans to look into this matter."
Sirkin acknowledged in his statement that O'Reilly learned of de Mohrenschildt's whereabouts from the late congressional investigator Gaeton Fonzi.
Holt statement makes no mention of tapes: But absent from Sirkin's statement was any mention of the phone calls between O'Reilly and Fonzi on the day of the suicide.
The phone calls were first reported in 2013 by Jefferson Morley, a veteran journalist who runs a site devoted to the JFK assassination. Recordings of the calls have been preserved by Fonzi's widow, who has long insisted that O'Reilly did not arrive in Florida until after the suicide.
CNN recently obtained its own copy of the recordings, which have cast doubt on O'Reilly's account.
In the recordings, O'Reilly can be heard saying that he intended to fly to Florida that night or the following morning. At one point, Fonzi explained to O'Reilly where the suicide had taken place.
The name of Epstein, the journalist who interviewed de Mohrenschildt, came up frequently throughout O'Reilly's phone conversation with Fonzi. O'Reilly told Fonzi that the rumor of the suicide had originated with Epstein.
After the suicide had been confirmed, O'Reilly said he was determined to reach Epstein.
"Now we gotta get this guy Epstein," O'Reilly told Fonzi. "I'm coming down there tomorrow. I'm coming to Florida. We gotta get this guy. He knows what happened."
Sirkin told CNNMoney on Tuesday that the phone recordings have left him perplexed.
"I can't explain it. I'm befuddled by it," he said of the recordings. "The only thing I can think of is that the call that's being referenced here was made from Florida because it is implausible, impossible that Bill O'Reilly and I were not in Florida. We left for Florida on [March] 28th, and arrived on the morning of the 29th."